Circulate is known as the go to organization for land use and mobility policy. We are at the forefront of innovative and practical solutions.
Corporate Members fuel Circulate San Diego's work to advocate for safe streets, improved transit, and better land use policy. With your support we are making San Diego a better place to live, work, and move around.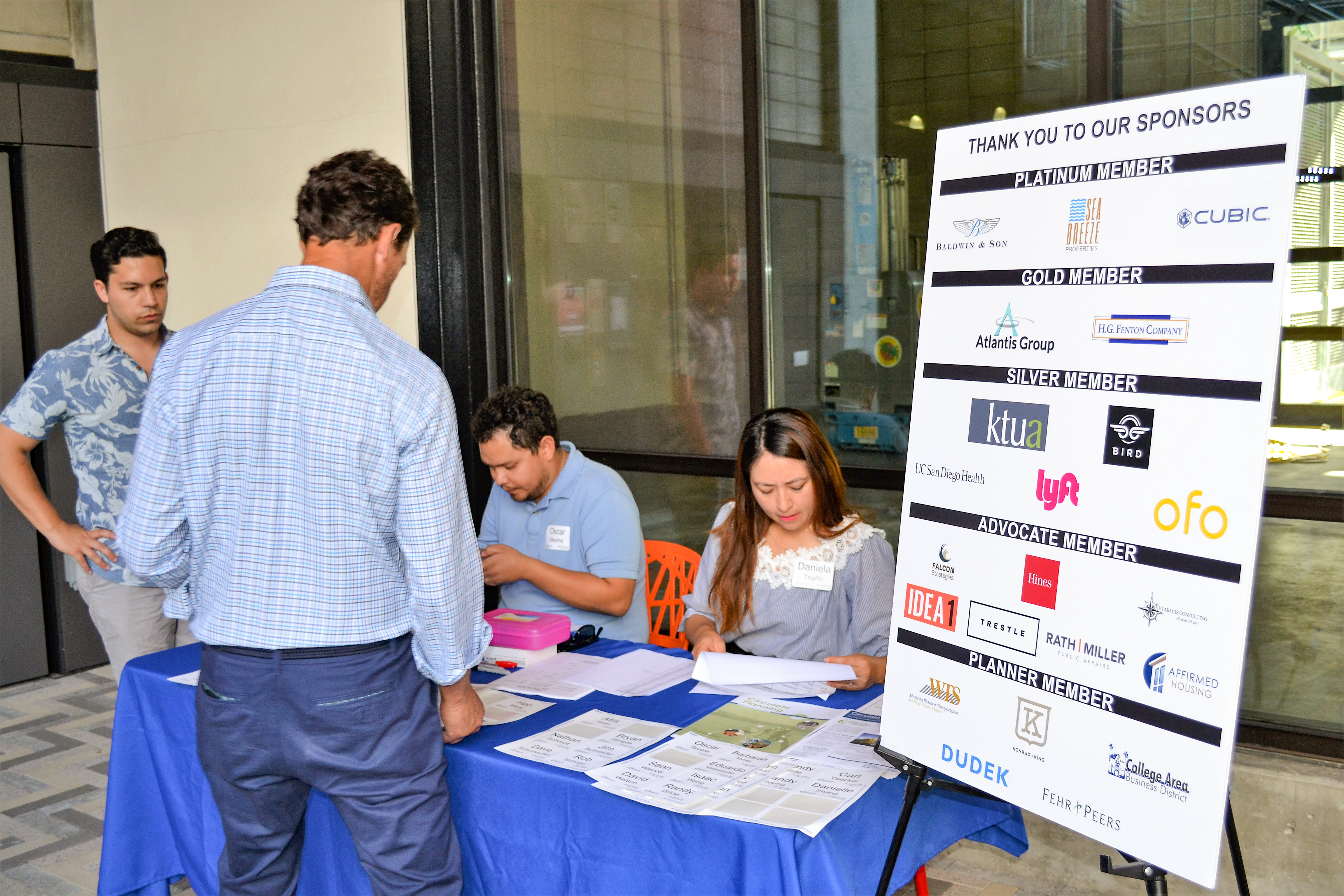 Membership Includes
Access to decision makers and influencers
Participation in our policy priorities and advocacy
Support for affordability and mobility for your employees
Visibility in our email newsletter, website, and social media
Special recognition at Circulate's annual Momentum Awards, with additional benefits at each level of membership
Sponsor opportunities for a research studies and serve on research advisory committees
Tax Deductible to the extent allowed by law
Membership Terms:
Memberships last through the calendar year. Membership purchases in November or December will also grant you a full Corporate Membership for the subsequent year.
Membership Levels + Benefits
Planner $1,000

Company logo featured as member on Circulate website
Free attendance for company staff for membership events
Company logo featured as member in biweekly "Circulator" newsletter with an audience of 10,000+
Recognition in Circulate Social Media group post (all channels)
Special recognition at Circulate's annual Momentum Awards, including:

Name and logo with sponsorship level on event invitations and during welcoming remarks
2 Event Tickets

Advocate $2,000

All benefits of the Planner membership
Opportunities to showcase company in the Circulator "Member Spotlight" and Author a Special Blog Post
Special recognition at Circulate's annual Momentum Awards, including:

Name and logo with sponsorship level on event invitations and during welcoming remarks
4 Event Tickets

Silver $3,500

All benefits of the Advocate membership Invitation as a non-voting member to a Circulate Policy Committee
Special recognition at Circulate's annual Momentum Awards, including:

Quarter-page ad in event program
Opportunity to show a 30-second self-produced video during program
6 Event Tickets

Gold $5,500

All benefits of the Silver membership
Invitation to VIP events: Including annual Advisory Circle Dinner
Recognition in Circulate Social Media a dedicated post (all channels)
Special recognition at Circulate's annual Momentum Awards, including:

Half-page ad in digital event program
Opportunity to show a 30-second self-produced video during program
Invitation to VIP Pre-event reception
8 Event Tickets

Platinum $7,500

All benefits of the Gold membership
Opportunity to Choose 1 Additional Benefit

Membership Mixer Title Sponsorship
Advisory Council Title Sponsorship
Advisory Committee / Report Sponsorship
Advisory Committee / Campaign Sponsorship
Sponsor and Sit on Panel Discussion

Recognition in Circulate Social Media 2 dedicated posts (all channels)
Special recognition at Circulate's annual Momentum Awards, including:

Opportunity to present one of eight juried awards
Opportunity to show a one-minute self-produced video during Momentum Awards program
Full page ad in event program
10 Event Tickets

Benefactor $10,000

All benefits of the Platinum membership
Exclusive Media Engagement Opportunities
Opportunity to Choose 2 Additional Benefit

Membership Mixer Title Sponsorship
Advisory Council Title Sponsorship
Advisory Committee / Report Sponsorship
Advisory Committee / Campaign Sponsorship
Sponsor and Sit on Panel Discussion

Recognition in Circulate Social Media 3 dedicated posts (all channels)
Special recognition at Circulate's annual Momentum Awards, including:

Opportunity for exclusive title sponsorship for the Momentum Awards
Opportunity to provide opening remarks for the Momentum Awards
Full page ad and front-page logo in event program
15 Event Tickets