WORK WITH US - DIRECTOR OF PLANNING AND COMMUNITY ENGAGEMENT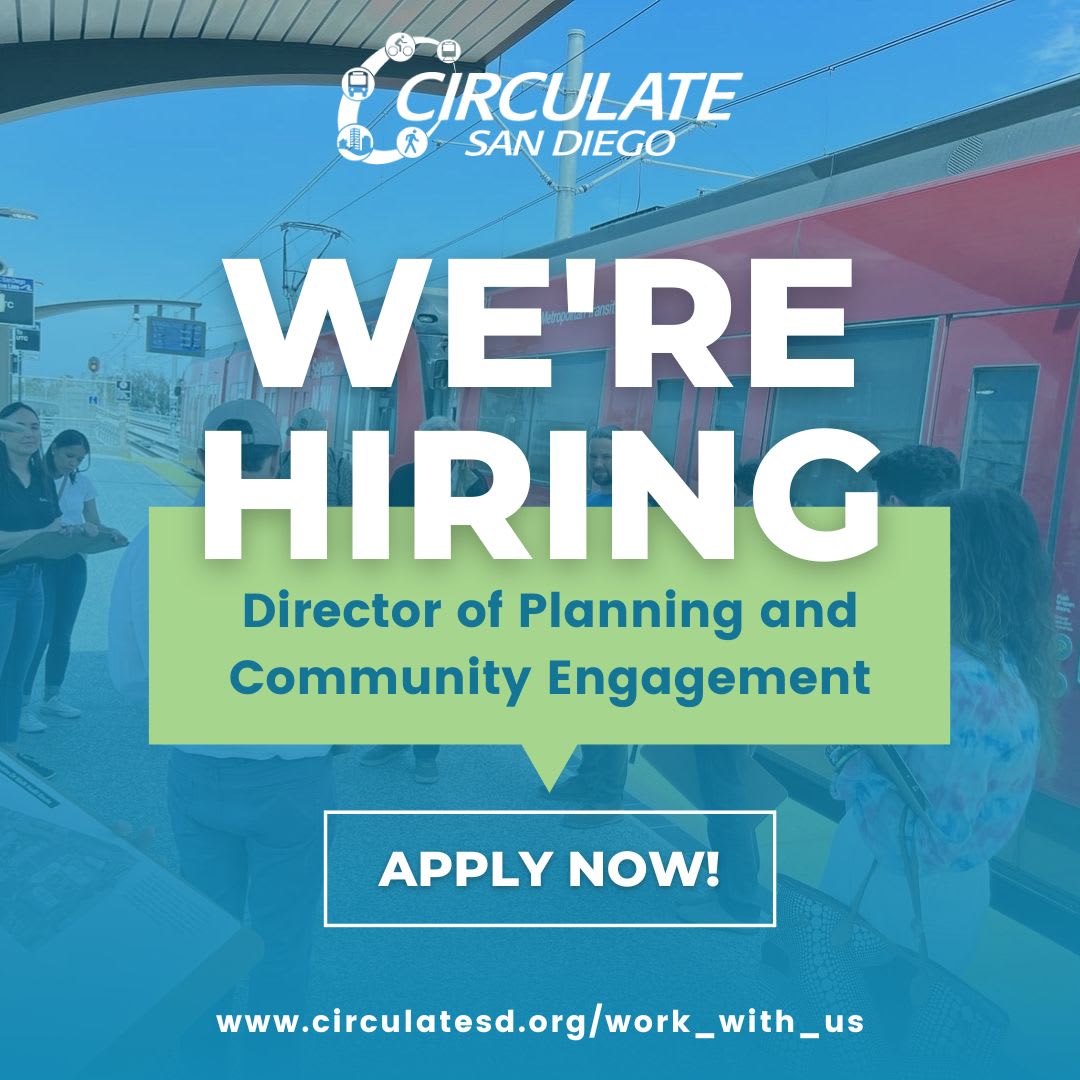 Come work with us. We are excited to share that we are recruiting for our next Director of Planning and Community Engagement.
This is a unique opportunity for a medium to senior level planning and/or community engagement professional to join a high-profile organization and a team of collaborative and dynamic planners and outreach specialists. This position is perfect for a lateral jump into a nonprofit, or for an up-and-comer looking to take the next step in their career to develop leadership, management, and business skills.
Op-eds Urge a robust University City Community Plan The San Diego Union Tribune published three opinion pieces urging a robust University City Community Plan. Circulate worked to organize and coordinate the authors with the UT.
Opinion: University City community plan updates can make our neighborhoods and businesses healthier, IQHQ's Justine Nielsen
Opinion: Improved bus, pedestrian infrastructure needed to build on Mid-Coast Trolley's success, RideSD's Zack Defazio Farrell and Leif Gensert
Opinion: As University City grows, the community will need more multi-family housing near transit, OTTA United's Aidan Lin
Thank you, Justine, Zack, Leif, and Aidan, for helping us submit these pieces.
Successful Caltrans SR-15 Bike, Walk, and Beautify Event!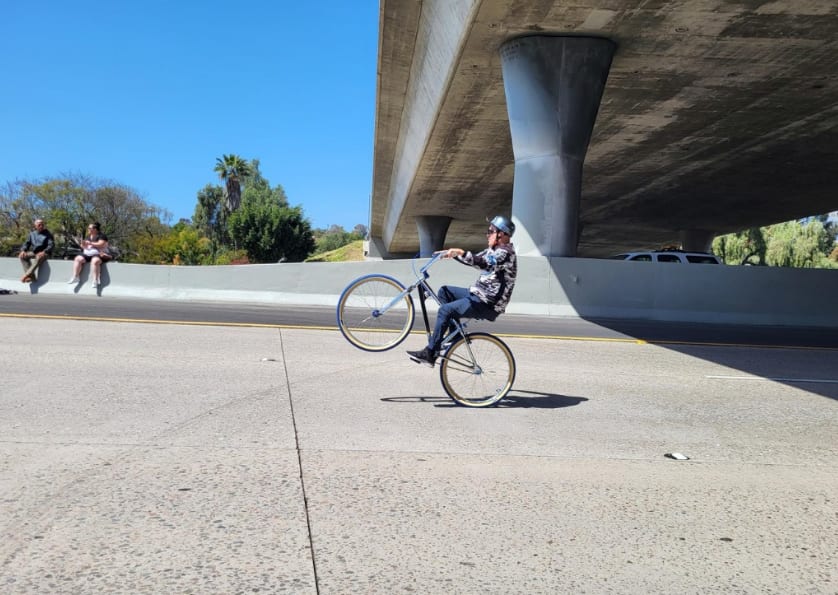 We hope you all had a chance to walk or bike on SR-15 this past March 25th!
Thousands of people, including us, enjoyed a car-less freeway for a few hours.  As a result of the event, the freeway was able to be cleaned and repaired as well as local parks such as Dorothy Petway Parkway.
We hope this is the first of many events where active transportation users can enjoy a right-of-way that is typically only reserved for cars.
Currently at Circulate, we are working on our "Safe Routes to Parks" project. To better understand the barriers that prevent many residents from accessing these spaces, we are asking San Diego Promise Zone residents to voice their concerns regarding transportation infrastructure, access to public green space, and health equity. The findings from this short 10-question survey will allow us to identify potential quick-build treatments and draft city placemaking permit applications to take immediate action!
Our Safe Routes to Parks project is funded by the Robert Wood Johnson Foundation.
Coming this Tuesday: Getting involved in Community Planning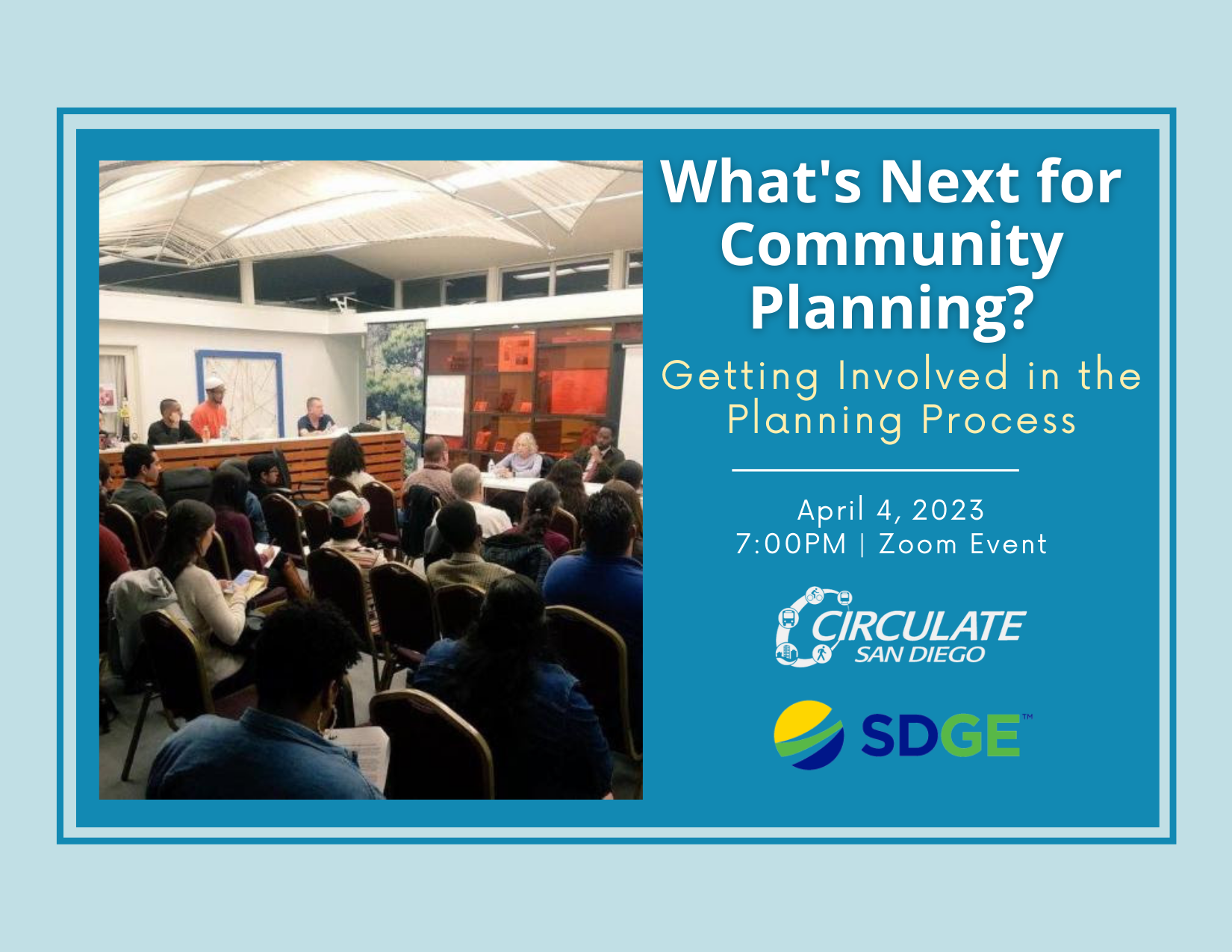 On Thursday, Circulate hosted a zoom event discussing how to get involved in community planning – through community planning groups and beyond.
If you missed it (or did not get your question answered), join us again this Thursday, April 4, at 7:00 p.m.
Topics to be addressed include:
What avenues are there for getting involved in the planning process?
What is a CPG and what is its role in the planning process?
What changed with CPG reform?
How is the City of San Diego updating its community outreach policies?
Walking Field Trip with Housing California Conference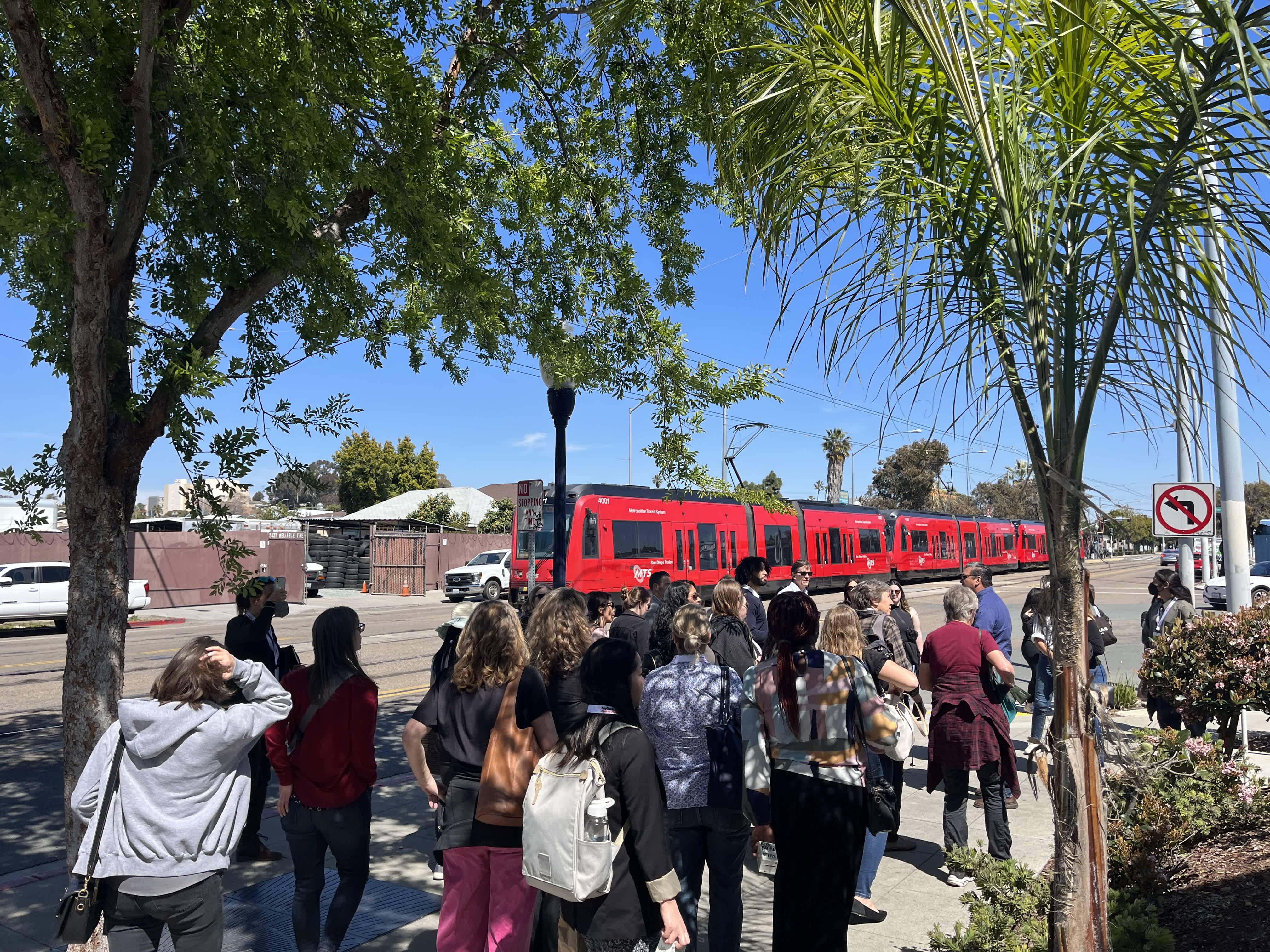 The Housing California conference was in San Diego this week, and Circulate had the pleasure of hosting a walking field trip around Barrio Logan with dozens of attendees.
Mixing trolley trips and foot trips, the crew took the green line from Fashion Valley to 12th & Imperial before transferring to reach 25th & Commercial. After disembarking the trolley, we received a tour of the COMM 22 housing community from BRIDGE and MAAC. Circulate planners then led a walk audit (complete with data collection tools) on the route from COMM 22 to our next stop, Estrella del Mercado on National Avenue. From Estrella del Mercado the group crossed the street into Chicano Park, where park docent Dr. Alberto López Pulido led a tour of the murals and museum. The final stop was the Barrio Logan blue line station for a trolley ride back to the conference.
Major thanks to Circulate Board Member Sarah Buchanan of the San Diego Housing Federation for organizing this event. It was a huge success and a ton of fun!
Circulate speaks to San Diego APWA Transportation Committee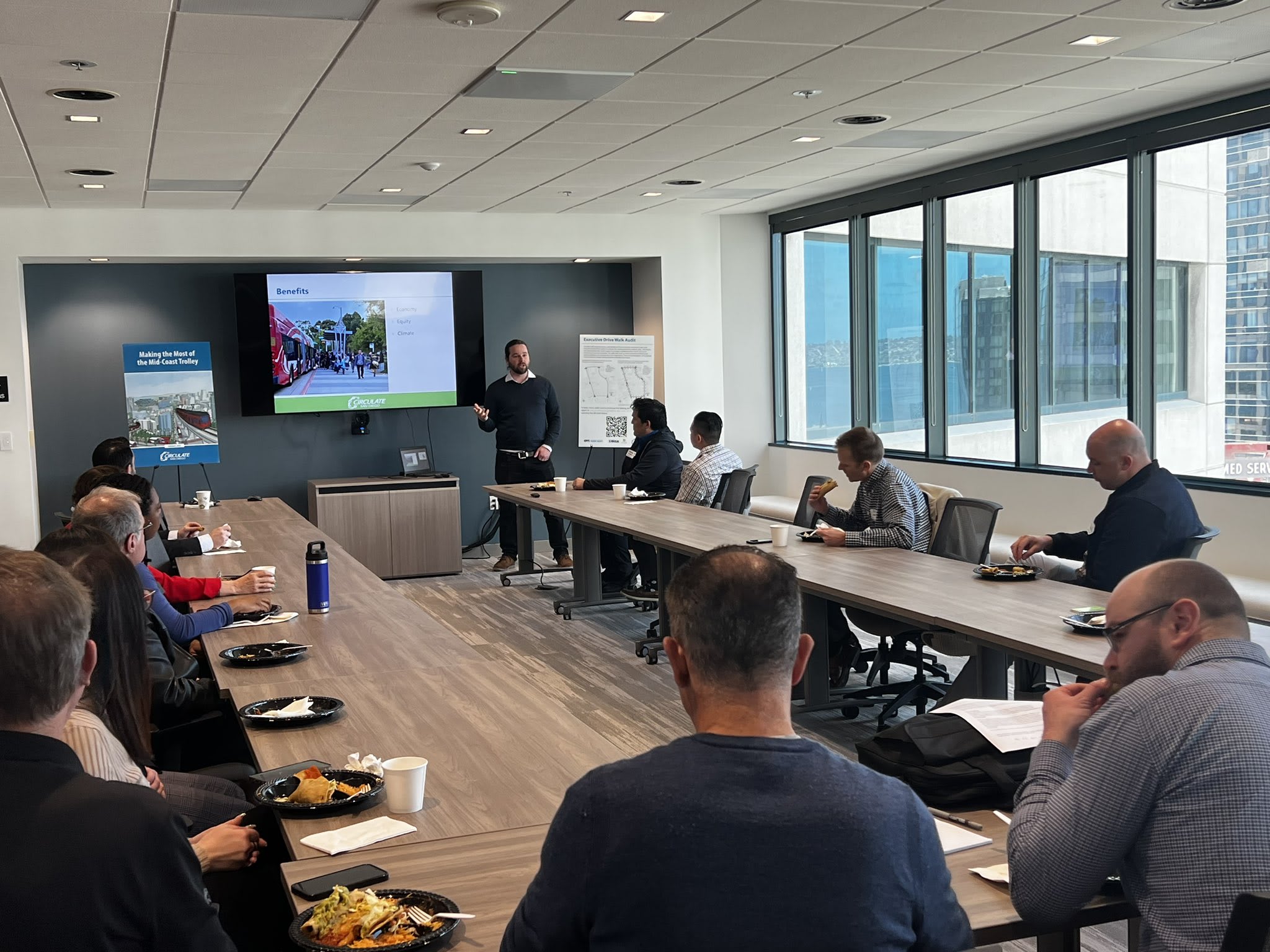 Circulate's Policy Counsel Jesse O'Sullivan spoke at the San Diego Chapter of the American Public Works Association's Transportation Committee to discuss the Making the Most of the Mid-Coast Trolley report.
Circulate staff continue to meet with decisionmakers, testify at the UC Planning Group, and meet with stakeholder groups. Over the past month we have hosted a Lunch & Learn Webinar, spoken to a number of different stakeholder groups.
If you have a group you'd like us to speak at, please let us know!
Help get your project entitled and built
Circulate San Diego wants to help your smart growth project get entitled and built.
The Circulate Mobility Certification provides recognition and support for transit-oriented, smart growth projects in the San Diego region.
"Circulate's Mobility Certification authenticates our decision to create middle income housing in an urban location and substantiates smart growth principles to help San Diego achieve its climate action goals. Cresleigh endorses Circulate's work to promote better transit and smart land use in San Diego".
Jeremy Lui, Director of Development
Cresleigh Homes
Member Spotlight: Voice of San Diego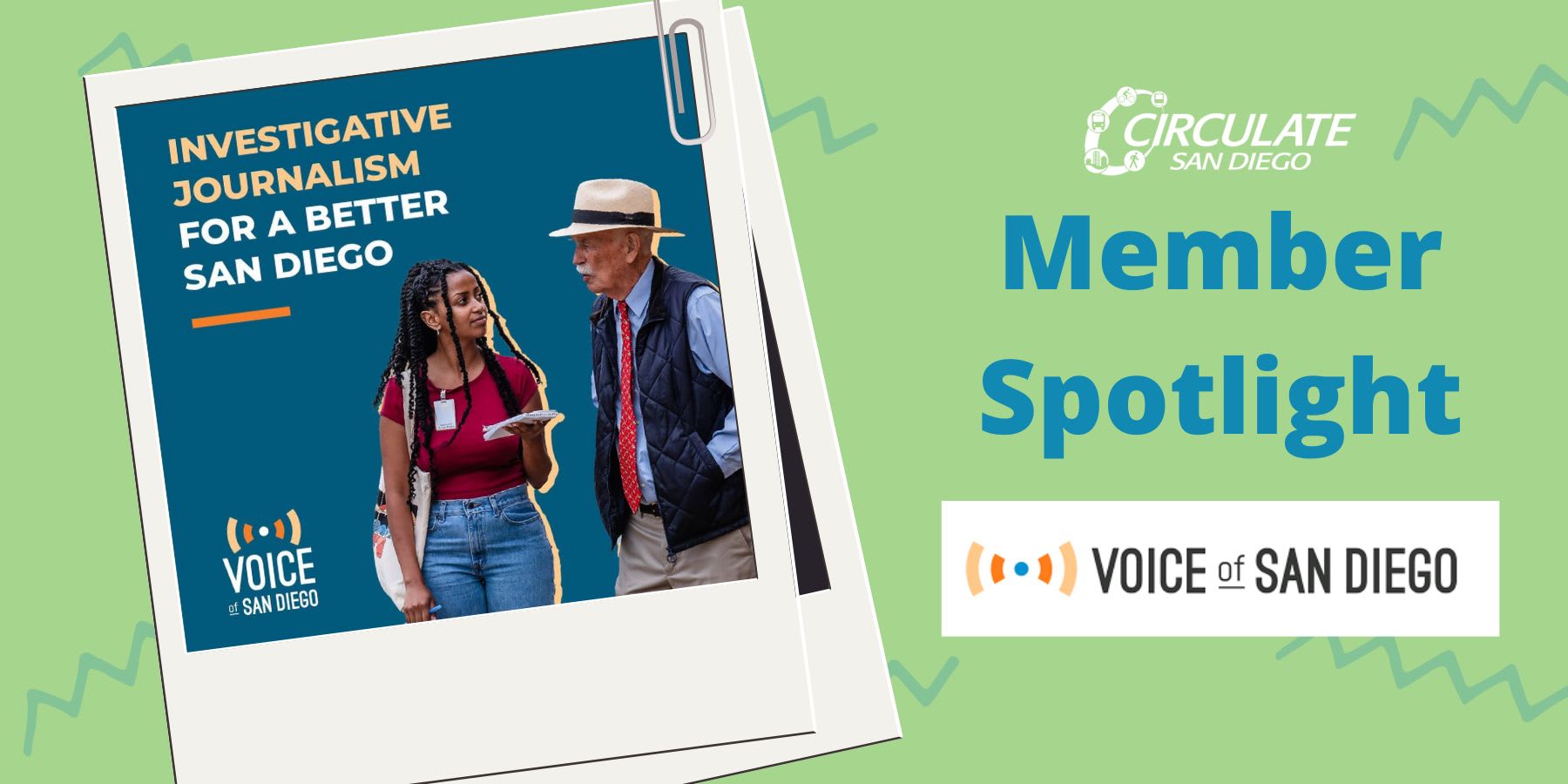 Voice of San Diego is San Diego County's top source for local, investigative news.
As a local, nonprofit newsroom, Voice of San Diego's approach is a little different than traditional news outlets. We believe journalism is best pursued with purpose and it's our goal to give concerned residents the tools to engage in important conversations about their community. We are building a community of educated San Diegans who dare to ask tough questions and demand answers.
circulate news