Action Alert: Send an email supporting more homes and bus lanes in the University Community Plan Update!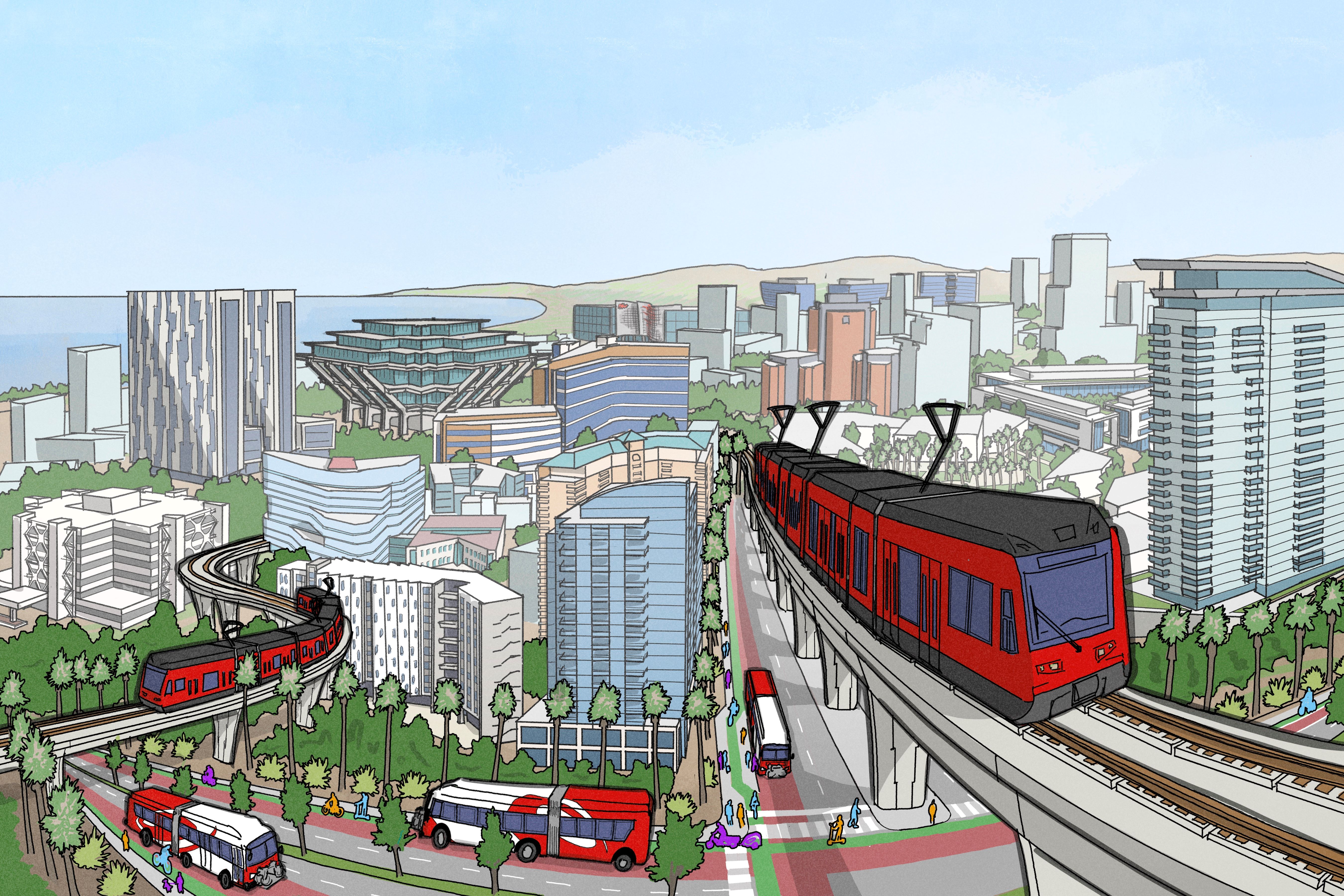 After investing $2.2 billion, San Diego has an opportunity to Make the Most of the Mid-Coast Trolley by planning for homes, jobs, and transportation options in the University Community Plan Update. The Trolley and the plan update can be a catalyst for equitable and sustainable economic growth.
The City needs to hear your voice in support of homes and bus lanes in the University Community Plan Update.
Circulate and Families for Safe Streets San Diego Keep the Pressure on for Vision Zero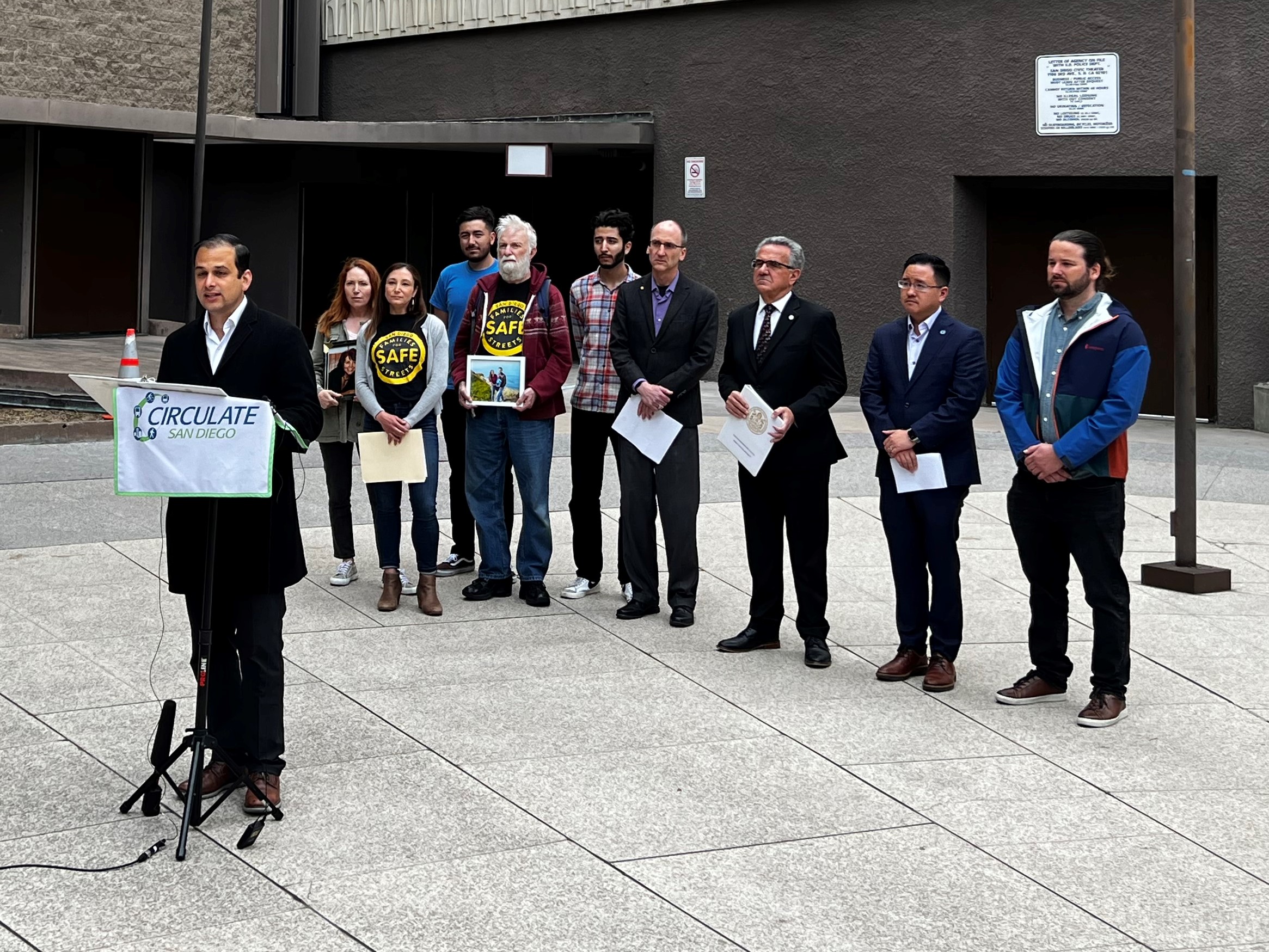 Circulate San Diego and Families for Safe Streets San Diego hosted a press conference that featured San Diego City Councilmembers Kent Lee, Joe LaCava, and Raul Campillo, as well as Families for Safe Streets San Diego members Laura Keenan and Steve Shinn. The speakers urged the Mayor to include additional funding for Vision Zero in the May Revision of the Proposed Budget. Watch the video and read the press release.
Circulate also sent an updated coalition letter regarding Vision Zero funding in the budget. None of the asks from our previous budget letter were included in the Mayor's Proposed Budget, despite several of them achieving majority support in Councilmember budget memos.
Circulate submits letter with new supporters and testifies for more homes in University City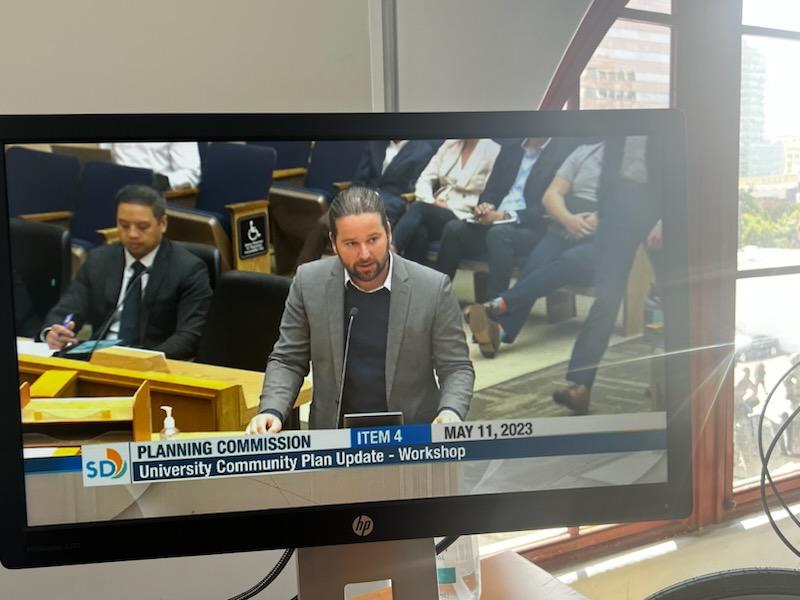 Circulate policy counsel Jesse O'Sullivan testified in favor of more homes and new bus lanes in the University Community Plan Update at the City of San Diego's planning commission on Thursday.
Circulate also updated our letter on the Plan Update with two new supporters – the San Diego and Imperial Counties Labor Council and Our Time to Act United. Our coalition now represents housing activists, climate activists, business organizations, students, and labor.
Asm. Alvarez at Advisory Circle Dinner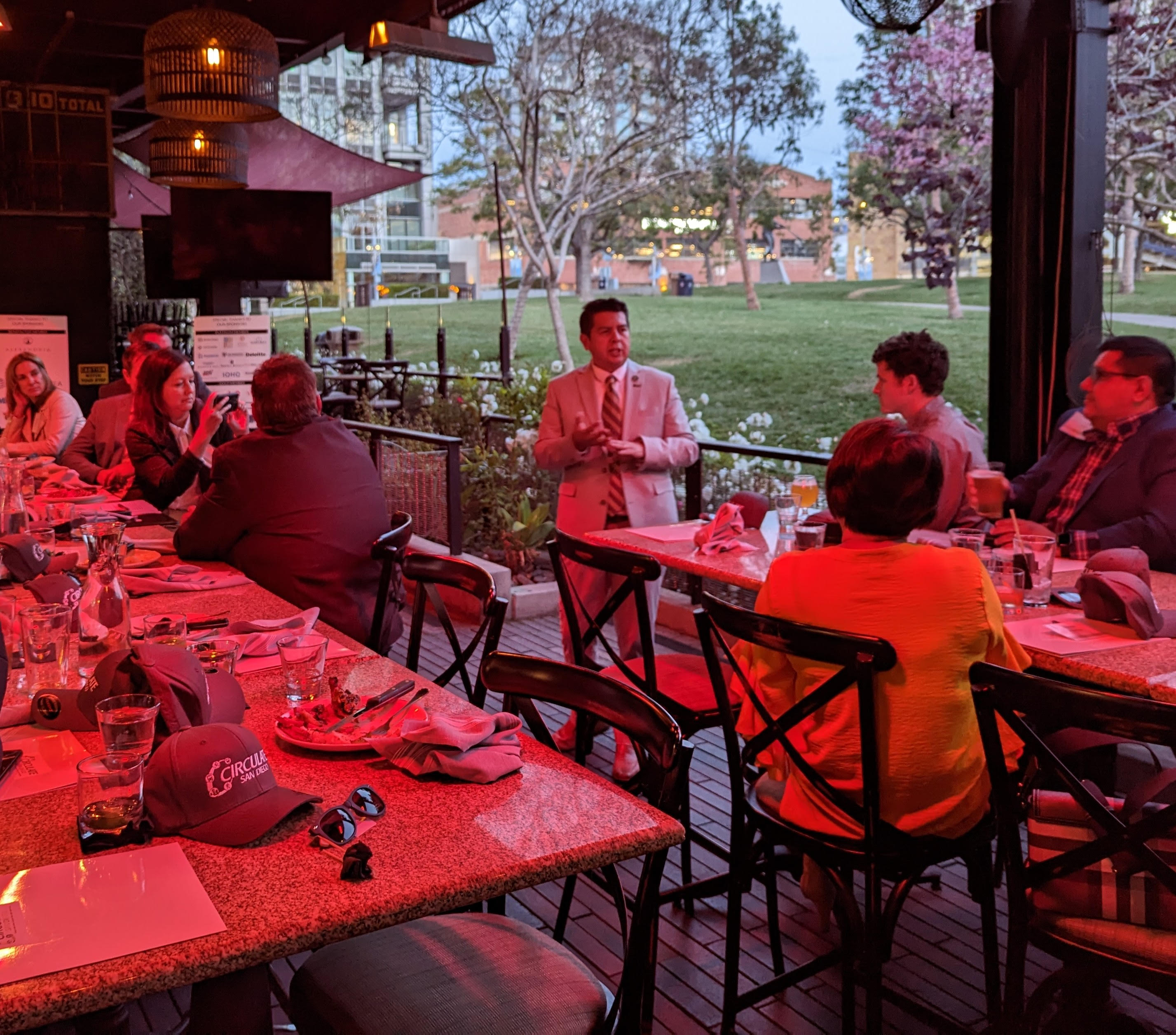 Last week, Circulate convened our fourth meeting of our Advisory Circle. Invitees included our region's land use and mobility leaders, and financial supporters. Our Advisory Circle formed to inform the work of Circulate San Diego. Members meet annually to review Circulate's efforts, and to seek input on what opportunities and priorities we should address in the coming year.
This year we welcomed special guest Assemblymember David Alvarez. Throughout his career, Assemblymember Alvarez has been a champion for affordable housing, the natural environment, healthcare, and historically disadvantaged communities.
Assemblymember Alvarez's bill, AB1287, would expand California Density Bonus Law by creating a new "Middle Income Bonus Program." That program would encourage housing developers to maximize existing incentives to construct deed-restricted affordable units, and to provide additional deed-restricted moderate-income units. We are thrilled to co-sponsor this important bill with our partners SPUR and the Bay Area Council. Learn More and Endorse AB1287.
Want to join our Advisory Circle? Membership is open to our Gold, Platinum, & Benefactor Members. To join or renew visit our Corporate Membership page.
Park and El Cajon Boulevard Walking Field Trip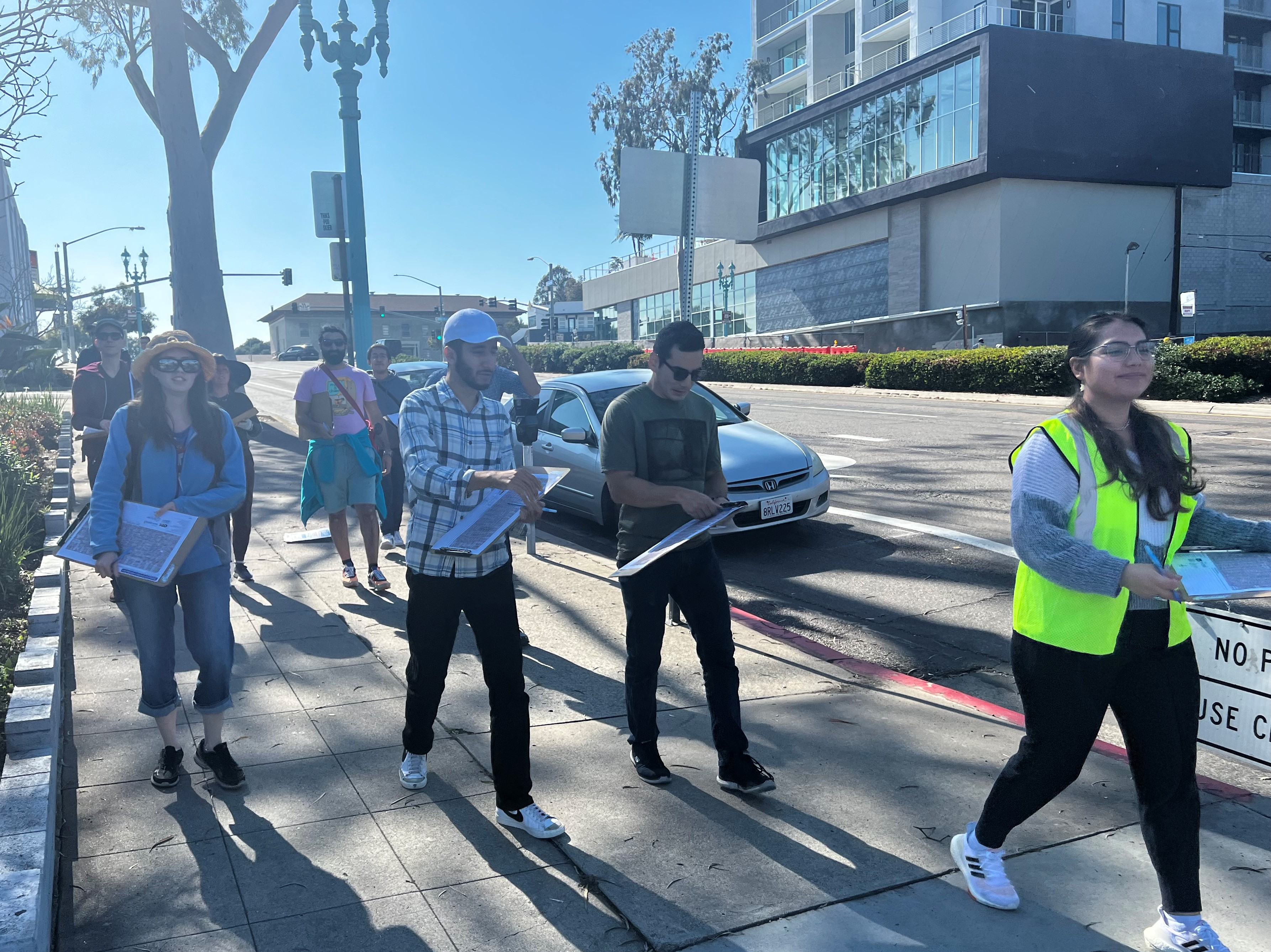 On April 28th, Circulate was joined by Walk n Roll San Diego and other members of the community to walk down El Cajon Boulevard. Participants started on the corner of Park Boulevard and walked to Idaho Street and back. The walk was approximately 1.5 miles, with multiple stops, and participants were given a mapping tool to annotate along the way.
Some of the observations included walking obstacles such as missing curb ramps, steep inclines, flooding, and trash. While it was a pleasant walk with ample tree shading, local business frontages, and company from other participants, the observations showed that participants would like to see improved sidewalk conditions, public trash cans, and bus shelters to make it a completely leisurely walk.
To see Circulate's on the spot interview with Univision, click here!
Advocating for Safer Streets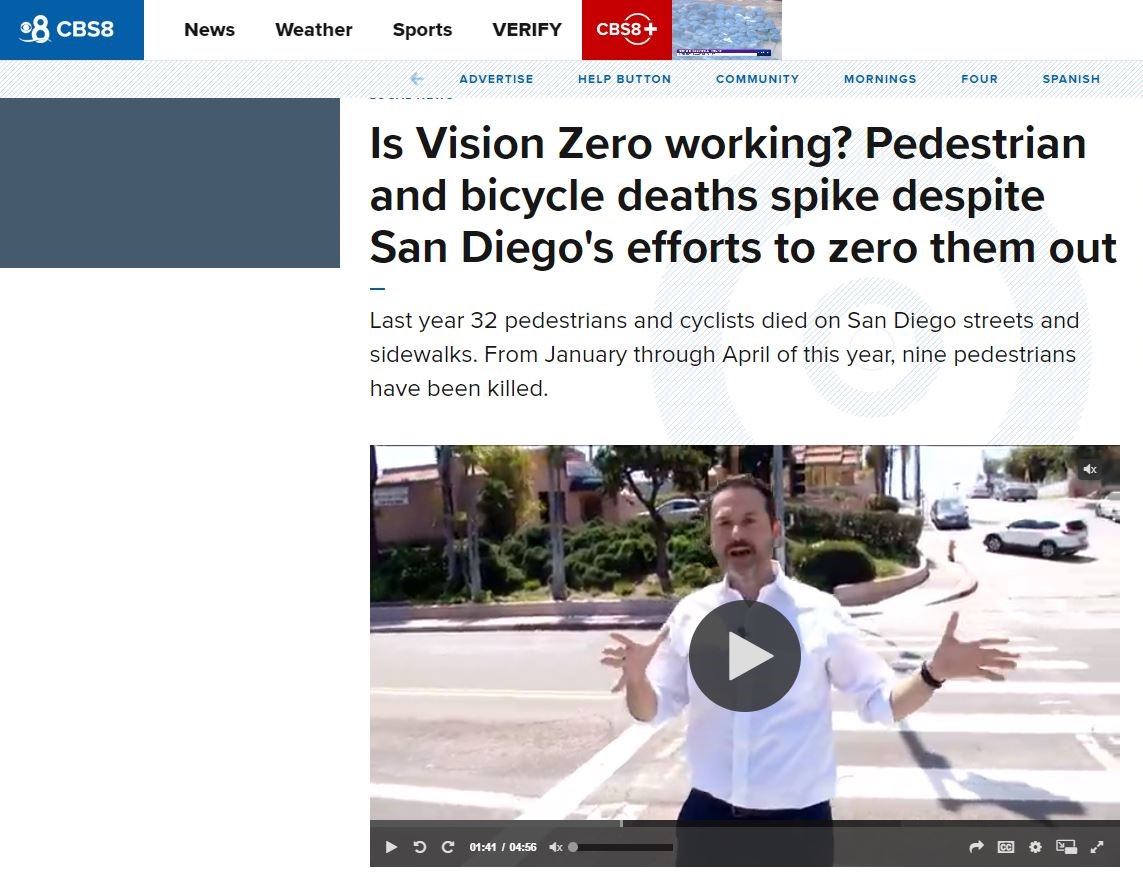 In 2018, Circulate took an important step in promoting our Vision Zero campaign by releasing a list of San Diego's most hazardous intersections. Last week, our CEO Colin Parent met with CBS8 at one of these intersections to update the public on the progress we have made, as well as the areas where we still need to improve.
Despite our efforts, people are still getting injured on our streets. We have a long way to go to ensure the safety that our community deserves. Through strategic policy changes such as lowering speed limits and redesigning streets, we can make our roads more accessible to all users, especially the most vulnerable.
Policy change alone is not enough, which is why Circulate is implementing creative educational and engagement programs to help us achieve our Vision Zero goals. We believe that this multi-faceted approach is key to creating a safer and more sustainable city for everyone.
circulate news