Become A Momentum Awards Sponsor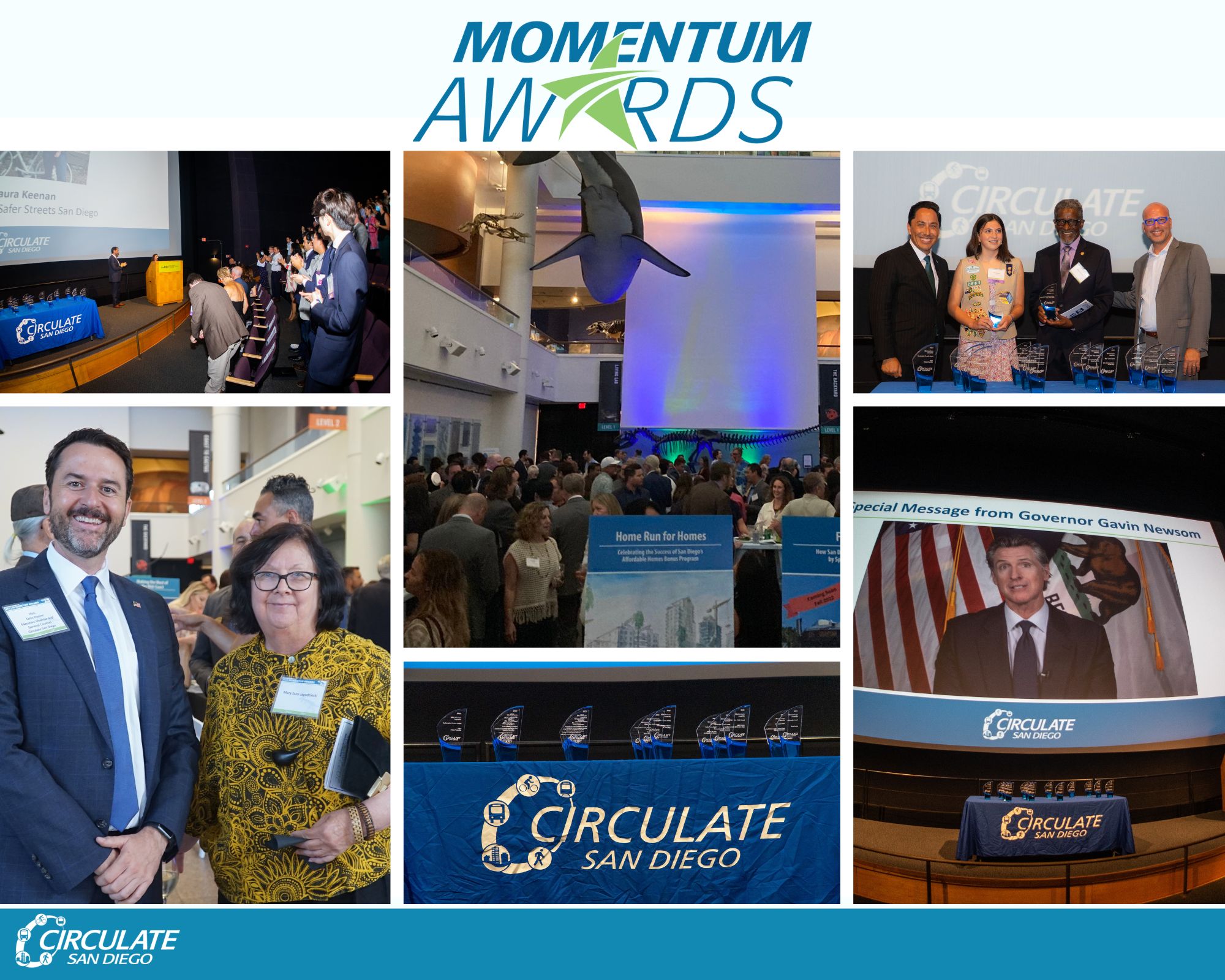 Circulate San Diego's Momentum Awards celebrate the people and projects in the San Diego region that are creating excellent mobility choices and vibrant, healthy neighborhoods.
Sponsorships are available for companies and organizations that support our work and secure visibility at our annual Momentum Awards. We want to recognize companies and organizations that are making San Diego a better place to live, work, and move around. By becoming a Corporate Member and Event Sponsor, your organization can secure valuable exposure among industry leaders, agency leadership, and elected officials.
View our sponsorship information on our Corporate Membership page, and contact Circulate San Diego at [email protected].
Don't miss your chance to attend, secure your spot today!
Intro Spotlight: Cierra Johnson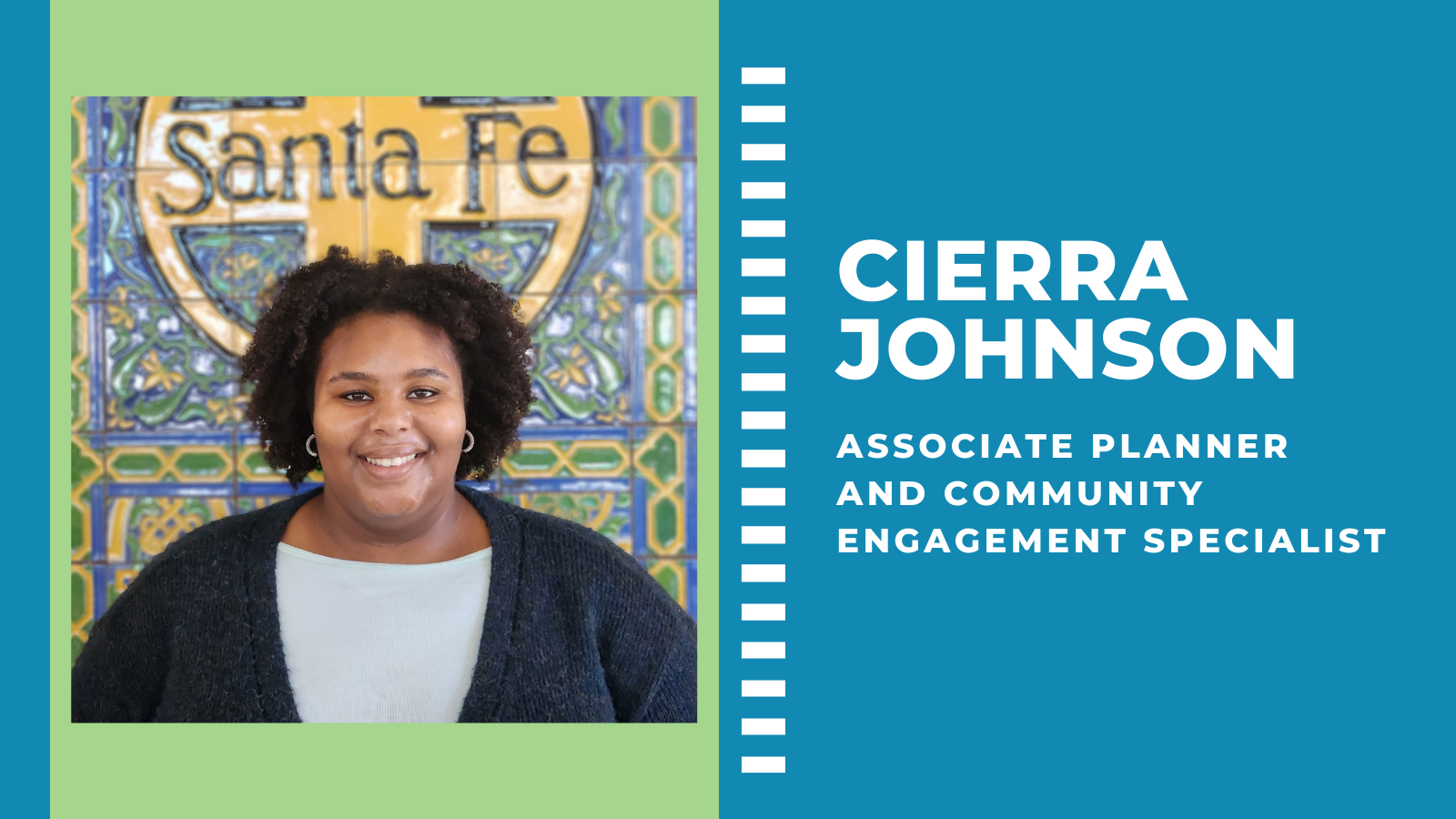 Join us in welcoming our new Associate Planner and Community Engagement Specialist, Cierra Johnson!
As is our tradition, we interviewed Cierra so our supporters and members can get to know her!
With Circulate San Diego's support, Middle-income density bonus bill AB 1287 advances through State Senate committees!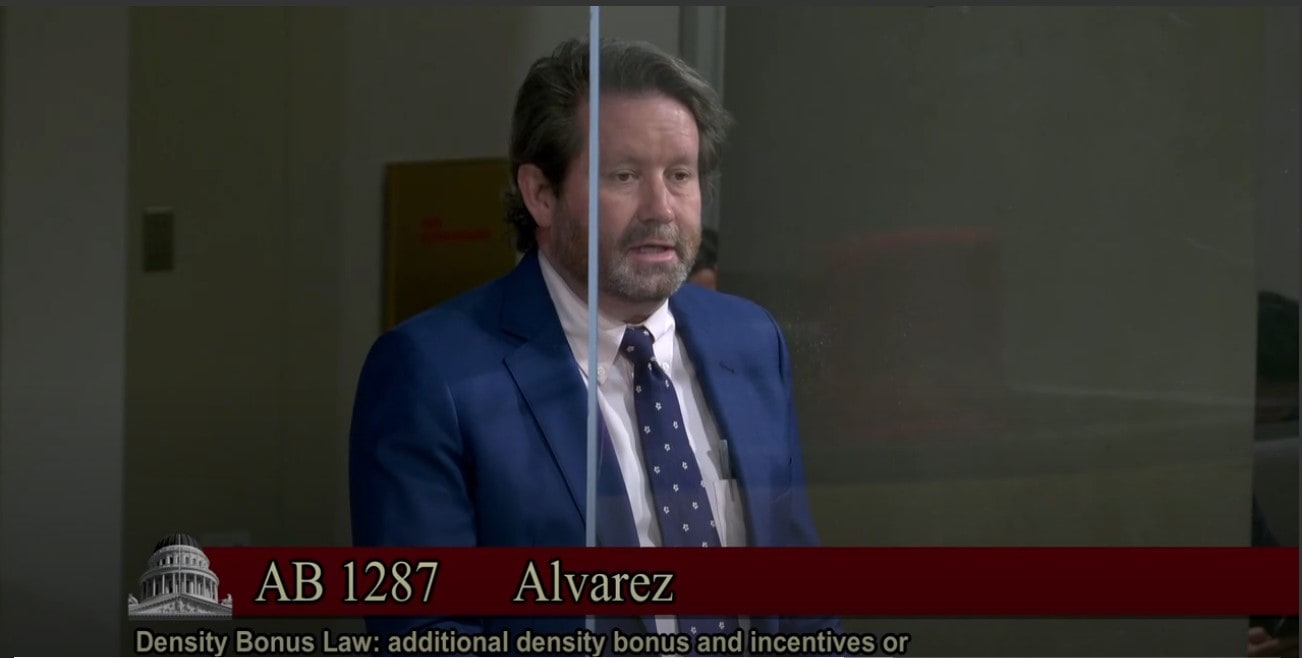 The State Senate Governance and Finance Committee voted in favor of proposed bill AB 1287 that would expand California's Density Bonus Law to include moderate income housing. Circulate and our partners in the State Legislature continue to fight for increasing the supply of affordable homes!
Watch our testimony here. Read our explanation of AB 1287 here.
Circulate at the Buena Park Food Truck Festival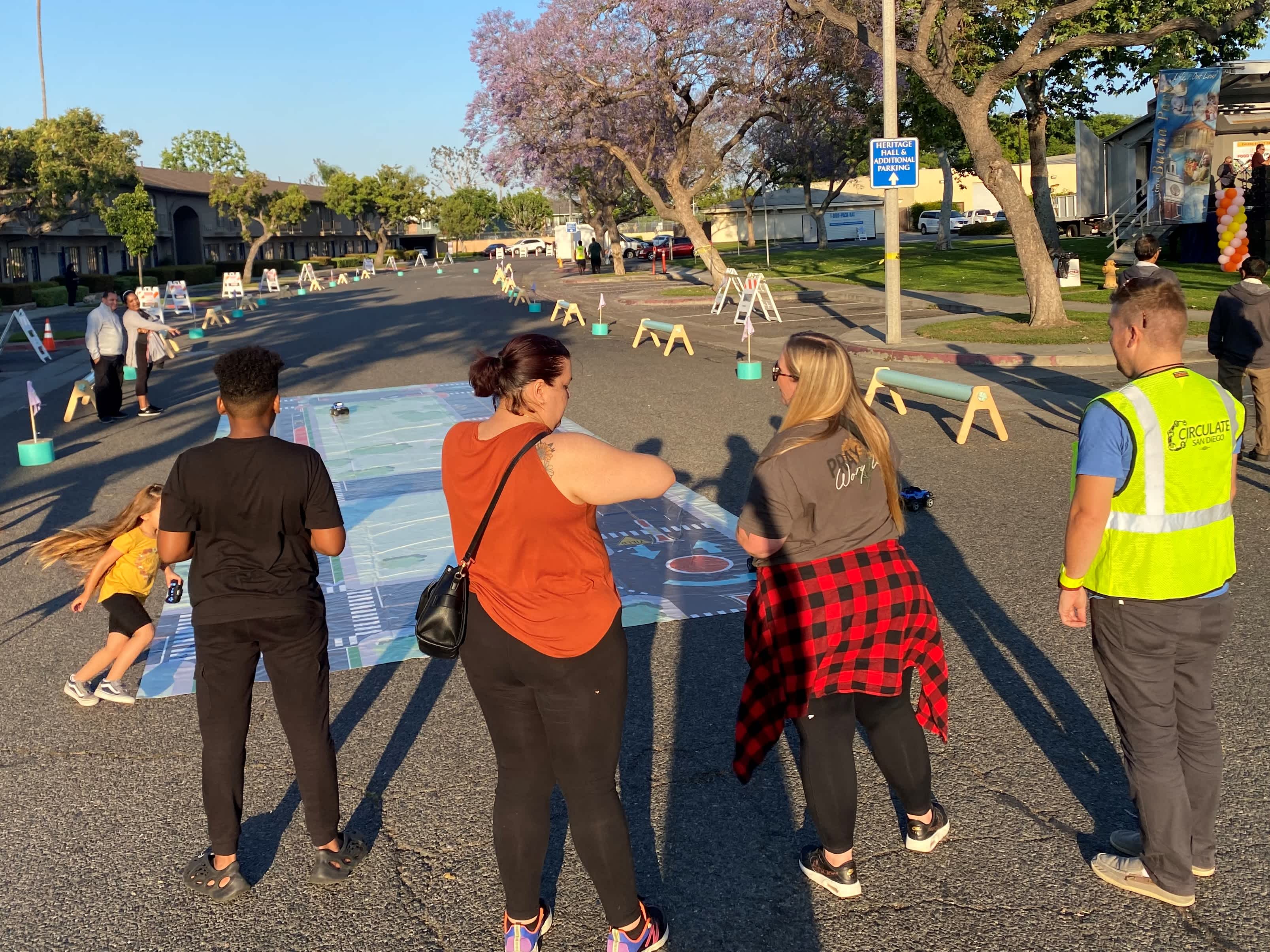 Kicking off the first outreach event for the City of Buena Park's Active Transportation Plan, Circulate worked alongside KOA, the City of Buena Park staff, community groups and representatives, to set up SCAG's Kit of Parts and Circulate's Traffic Calming Course. The plan goal is to create a vibrant walking and bicycling culture that addresses the needs of people that are dependent on walking, bicycling and/or accessing the transit everyday throughout the City.
This event took place in Ehlers Event Center, Buena Park on June 23rd and was well attended by the community. Community members were asked for their opinions on the project survey and the traffic calming measures on the remote-control car course.
Families expressed that they would like to see more safety at intersections to address speeding cars and pedestrian visibility. Overall, the Food Truck Festival drew positive feedback and we enjoyed speaking with everyone and the yummy food!
Oceanside Coastal Rail Trail Public Input Survey
The City of Oceanside is looking to extend the Coastal Rail Trail multi-use path, connecting a key gap between Downtown Oceanside and Carlsbad. Improving the multi-use trail connectivity in this area will make it so families, residents, and visitors can safely walk and bike to get to the beach, parks, schools, employment, grocery stores, transit centers, and more.
Circulate has been hosting pop-up events with the City of Oceanside to gather public input on the proposed walking and biking trail. On June 15th, the planning team participated in the Sunset Market, and on July 1st they headed over to the San Luis Rey River trailhead at Mance Buchanan Park to talk to folks about this project.
Join us at Buccaneer Beach between 10am and 2pm on August 19th to learn more about this initiative.
Please take the project survey here and let us know what you'd like to see planned for the Coastal Rail Trail expansion.
Transit for Fun Recap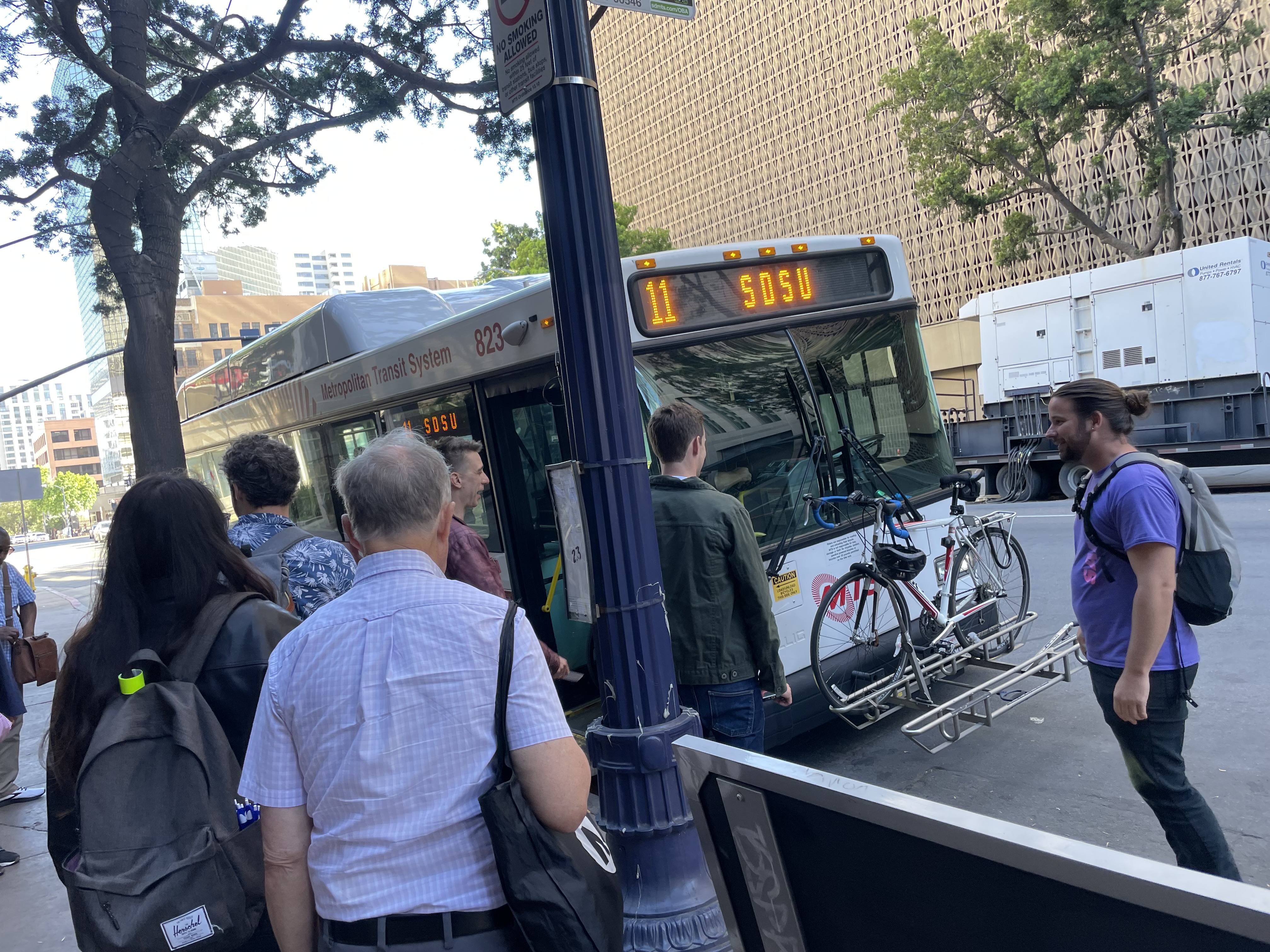 This past Wednesday, June 21st, the Circulate team hosted a Transit for Fun event leading people towards our June 2023 Membership Mixer. The goal of the Transit for Fun event is to teach people how to use public transit and encourage them to consider more sustainable transportation options when traveling in San Diego.
The group hopped onto the 11-bus route located on the corner of C Street and First Avenue and traveled to Park & Rec in University Heights just in time for the Membership Mixer event.
Thank you to those that participated and stay tuned for any future Transit for Fun events!
circulate news