Become a Momentum Awards Sponsor
We are excited to head back to San Diego's Natural History Museum for our 2022 Momentum Awards on September 14th. We want to recognize companies and organizations that are making San Diego a better place to live, work, and move around.
Sponsorships are available for companies and organizations that want to support our work and secure visibility at the event.
View our sponsorship information on our Corporate Membership page, and contact Circulate San Diego [email protected].
Don't miss your chance to attend, secure your spot today!
Vote to Amend the Bike Coalition's Bylaws!
The San Diego County Bicycle Coalition is holding a vote to amend its bylaws on Wednesday, July 27th at 6:30pm, with the goal of creating a more diverse and inclusive board of directors. This amendment would reduce the size of the board, introduce term limits, and decrease the number of seats reserved for bike clubs while increasing the proportion of democratically elected representatives.
The Bicycle Coalition has long been one of Circulate's most important partners in the fight for safe streets and walkable and bikeable communities. Instituting these reforms would allow them to create a board that is more representative of the diverse people and communities who rely on bicycles for transportation in San Diego.
To vote, sign up to be a member of the Bicycle Coalition and register to attend the Zoom meeting before July 25.
For more information and a link to registration:
Safe Routes to Parks Walk Audit Series
Over the next couple weeks, the Circulate Planning team will be conducting walk audits at three local parks:
Kennedy Neighborhood Park on July 28th
Teralta Park on August 2nd
Colina del Sol Park on August 4th
To select priority parks, Circulate conducted a collision analysis to find San Diego parks with the highest number of serious injuries and fatalities within a quarter and half mile radius. Community members are encouraged to join us on the walk audits to help collect data for pedestrian and bicyclist comfort and safety.
To RSVP and learn details, contact Morgen at [email protected]
Circulate Advocates for Local Involvement in SANDAG Vision Zero
Circulate sent a letter last week urging the SANDAG board to ensure that SANDAG's Vision Zero plan supports local jurisdictions. While it is encouraging to see SANDAG adopting Vision Zero, SANDAG's Vision Zero efforts should prioritize helping individual local governments to develop their own Vision Zero safety plans, because they are the entities that will need to implement any such plans.
After receiving our letter and hearing our testimony, San Diego City Councilmember Sean Elo-Rivera moved to recommend that the SANDAG board adopt a Vision Zero resolution that included support for local jurisdictions and special attention to bicyclists and pedestrians.
The resolution was passed unanimously by the SANDAG board on Friday July 22.
Circulate Board Retreat Recap
In 2022, the Circulate board and staff are developing our next strategic plan. As part of this process Circulate's board and staff came together in early July to host a summer retreat. We met to reconfirm our values and discuss the next big questions facing land use, mobility, and transit in the San Diego Region and how Circulate will respond.
Throughout this process we have met with stakeholders through interviews and surveys. Your input in feedback has been invaluable in our process.
Thank you to Hillcrest Business Association for hosting our retreat, and insideOUT and King Kream's ice cream truck for offering a satisfying ending to our hard work!
Home Run for Homes Featured in Union Tribune Opinion Section
The San Diego Union Tribune featured a trio of opinion pieces related to Circulate's latest report, Home Run for Homes. The pieces included one from Executive Director and General Counsel Colin Parent, one from a resident of an affordable home, and one contrary perspective. Colin's rebuttal to the contrary perspective is on twitter.
Circulate's policy and advocacy work continues to drive the conversation around housing towards solutions that bring more deed-restricted and market rate housing.
NCTD Transit Survey
Circulate is collaborating with Deloitte and North County Transit District (NCTD) to collect data on how to improve their transit systems (BREEZE, COASTER, FLEX/LIFT, and SPRINTER). The survey was developed to assess travel patterns and use of NCTD services as a way to inform future NCTD services and investment. It is intended for anyone who lives, works, or otherwise visits the North County region. A shorter version of the survey is also available for those who currently do not use transit but could potentially be encouraged to try it.
The Circulate team has been doing outreach throughout North County at various farmers markets and community events this past week and will continue to do so the rest of the month. Be sure to follow us on social media @CirculateSD to keep up with all of our moves!
If you are interested in taking the survey, click here. Your feedback will inform NCTD how to prioritize their funding for future improved service.
Pacific Beach Middle School Walking Field Trip Recap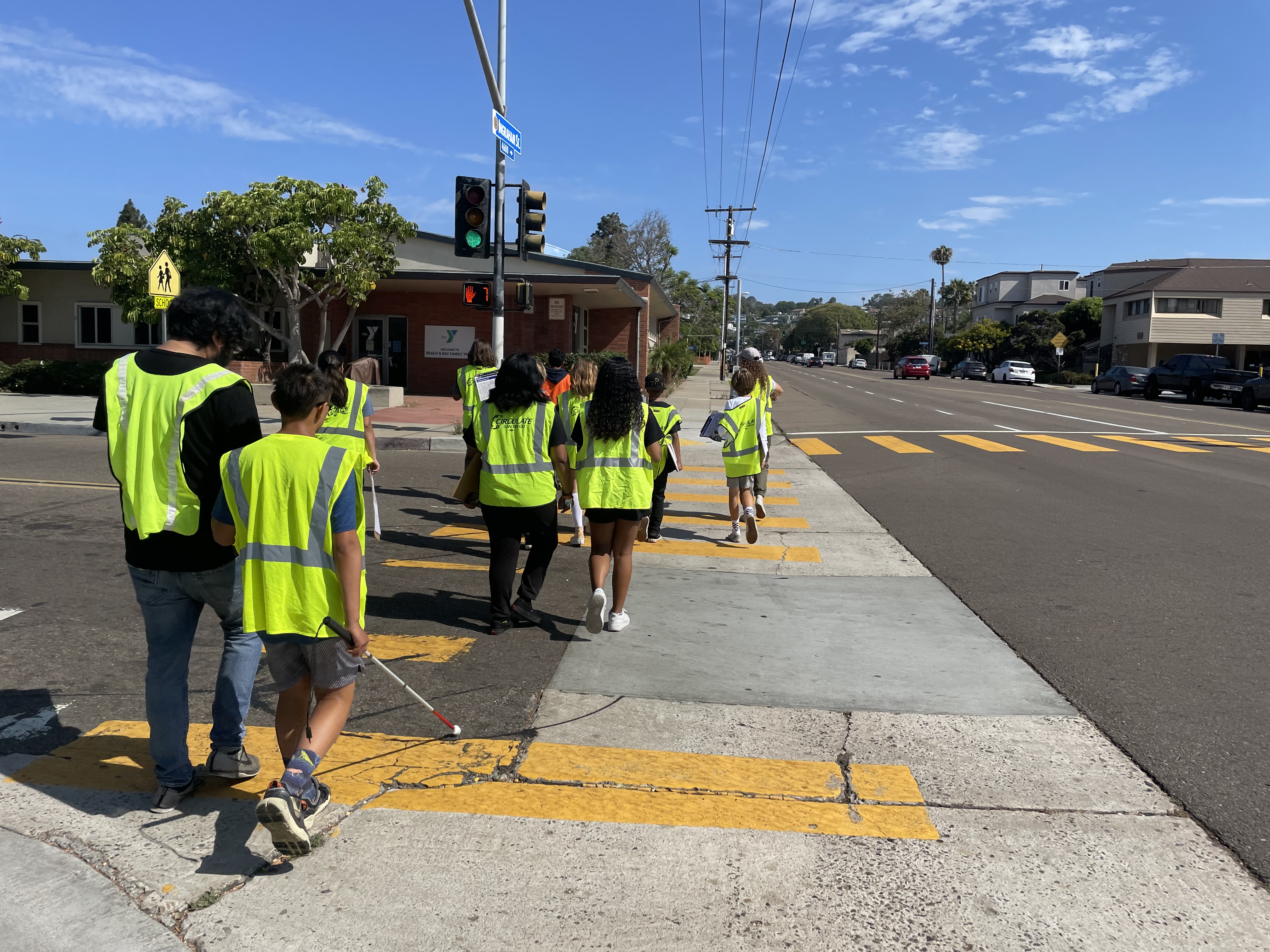 On Monday, June 18th, the Circulate planning team had the pleasure of hosting a walking field trip with Pacific Beach Middle School's summer school students. The purpose of the trip was to educate students on safe pedestrian infrastructure while identifying safety concerns, gaps and deficiencies in the pedestrian network, and existing pedestrian infrastructure in good condition.
Students provided input on issues that make it unsafe or uncomfortable for them to walk or roll to school. They noted numerous hazards (including an entire refrigerator blocking a crosswalk), especially relating to accessibility for visually impaired individuals, such as misaligned curb ramps and an absence of audible pedestrian signals. When asked for their recommendations to improve the pedestrian experience, students noted that they would love to have more seating options, water fountains, public art, bike lanes, and trash cans—and asked that the drivers on Garnet Avenue please slow down!
Membership Mixer Recap: Thanks for Joining Us!
Thanks to everyone who attended our Summer Membership Mixer! Shout out to Park & Rec for hosting us and supporting our work.
Special thank you to Council Member Stephen Whitburn for your time and remarks. We agree, lots of progress has been made to build housing, introduce bike infrastructure, and protect pedestrians moving around our city -  we are excited to work together to build on this progress in the years to come.
We especially want to thank all of our Corporate sponsors and individual members who help make our work possible. Together we are making San Diego a better place to live, work, and move around.
Don't miss out! Our annual Momentum Awards is fast approaching. Check out all the opportunities to participate.
Our Fall Membership Mixer will be post-election celebration (thanks Council Member for the title) on November 10th – stay tuned for details.