SAVE THE DATE: Circulate's Summer Membership Mixer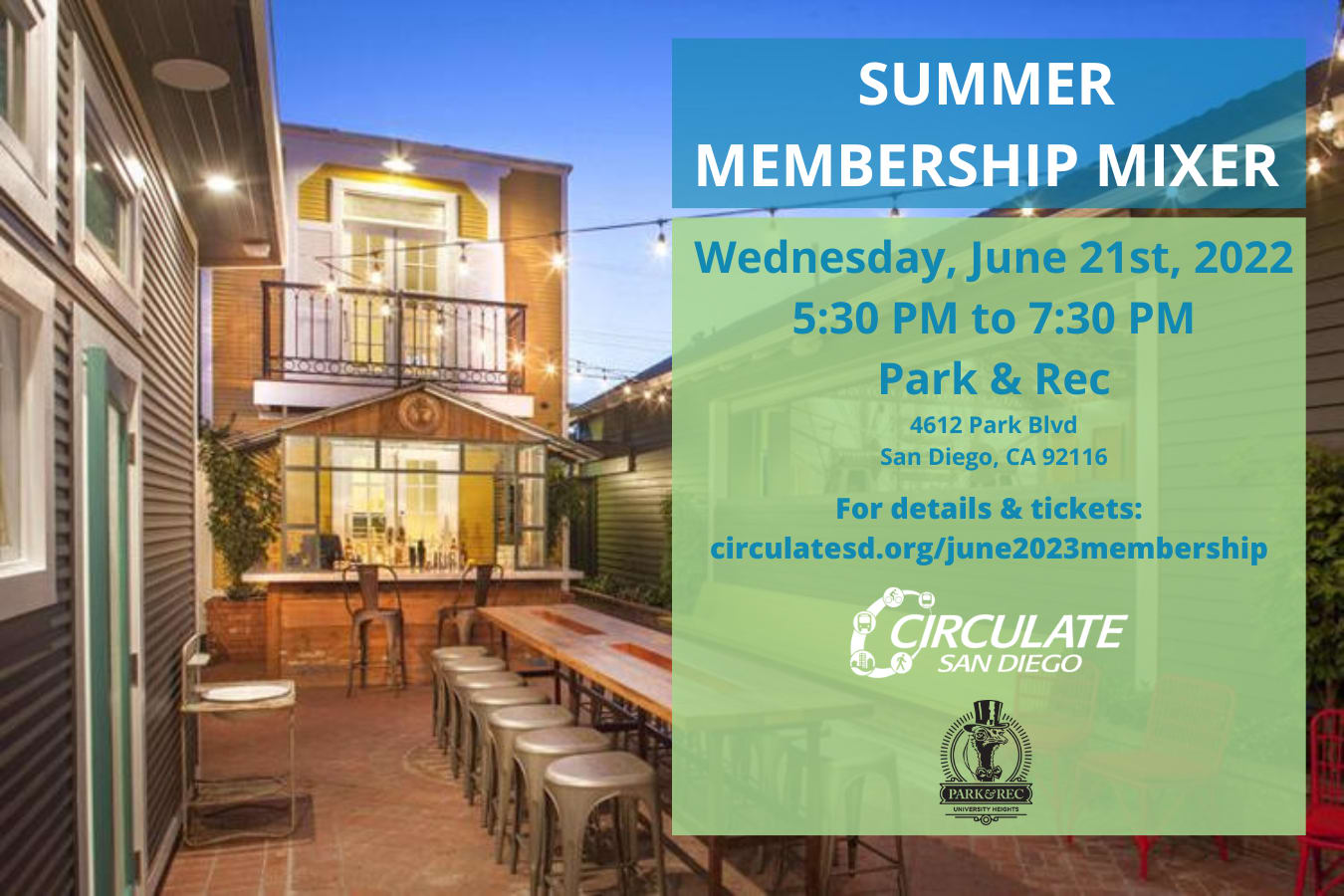 Join Circulate staff, local decision-makers, and professionals in the land use and transportation space for Circulate's summer membership mixer.
We excited to return to Park & Rec. Located along Park Blvd. in University Heights with new bike facilities and bus-only lanes we highly encourage you all to ditch your car and roll, walk, and transit to our summer event.
All 2023 individual and corporate members join for free.
Nominations are Open!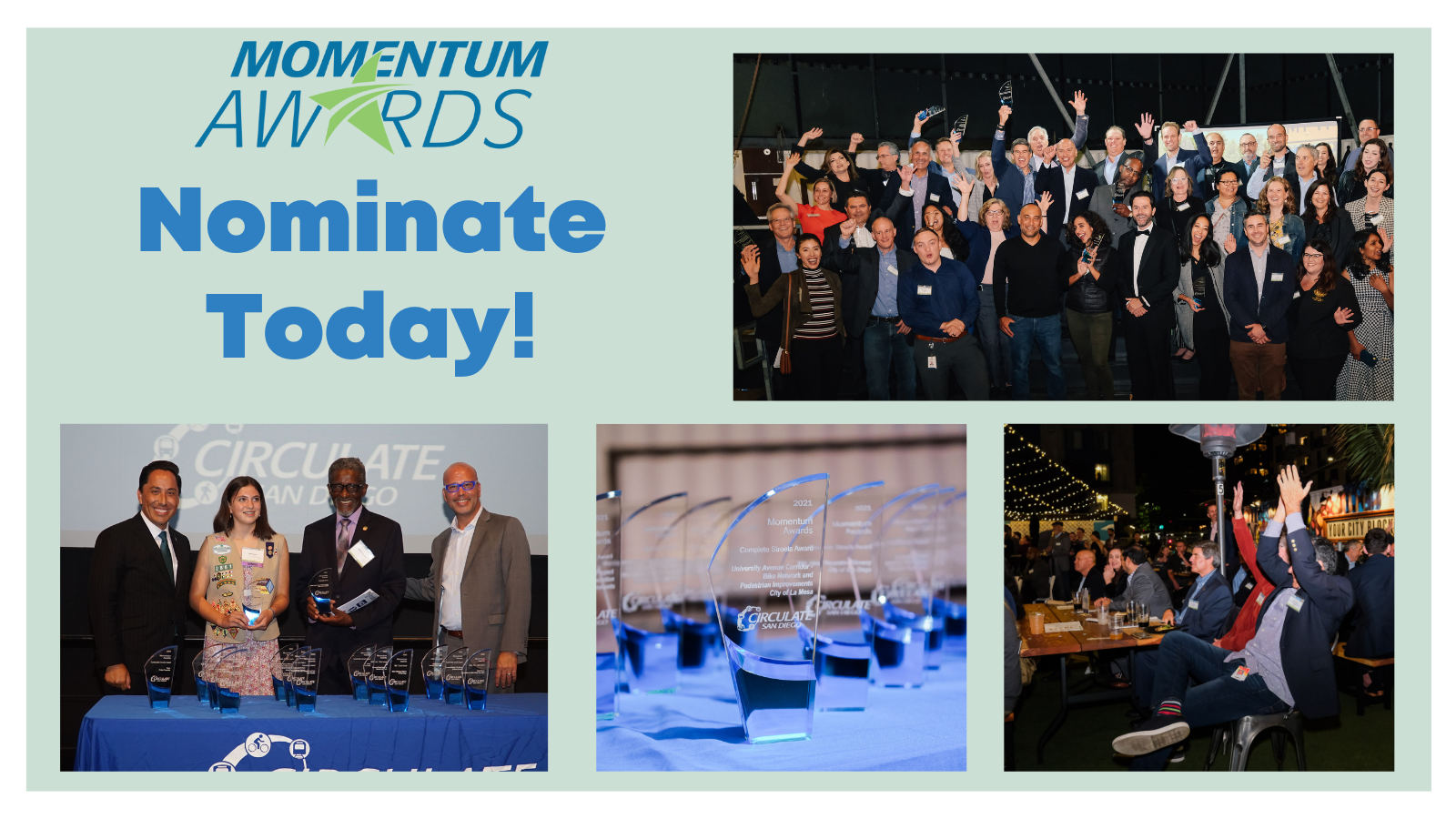 Nominations are now open for Circulate San Diego's annual Momentum Awards. Our Momentum Awards honor the people and projects in the San Diego region that are advancing excellent mobility choices and vibrant, healthy neighborhoods.
Categories include:
Safe Streets and Vision Zero Award
Public Transit Connectivity Award
Sustainable Growth Award
Innovation Award
Advocate Award
Public Voice Award
Mid-Coast Award
Learn about award criteria and nominate your favorite project, agency, company, or individual by 5:00 pm on June 30th, 2023. You are encouraged to self-nominate and to nominate a client's project.
Circulate advocates for Vision Zero in the Budget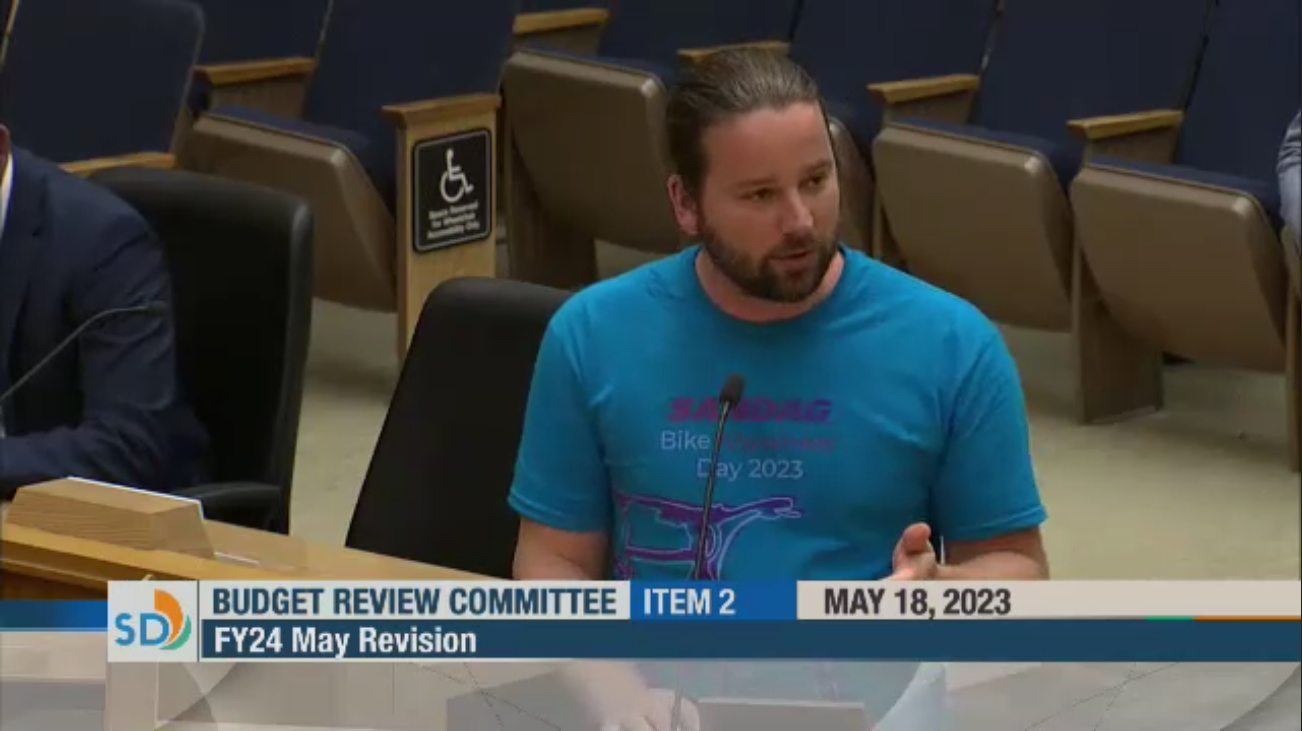 The City of San Diego's budget process is coming to a close, with the final hearing at 2:00 p.m. on Monday, June 12.Circulate and our partners at Families for Safe Streets San Diego continue to fight hard for additional funding for Vision Zero.
Action Alert: Send an email supporting more homes and bus lanes in the University Community Plan Update!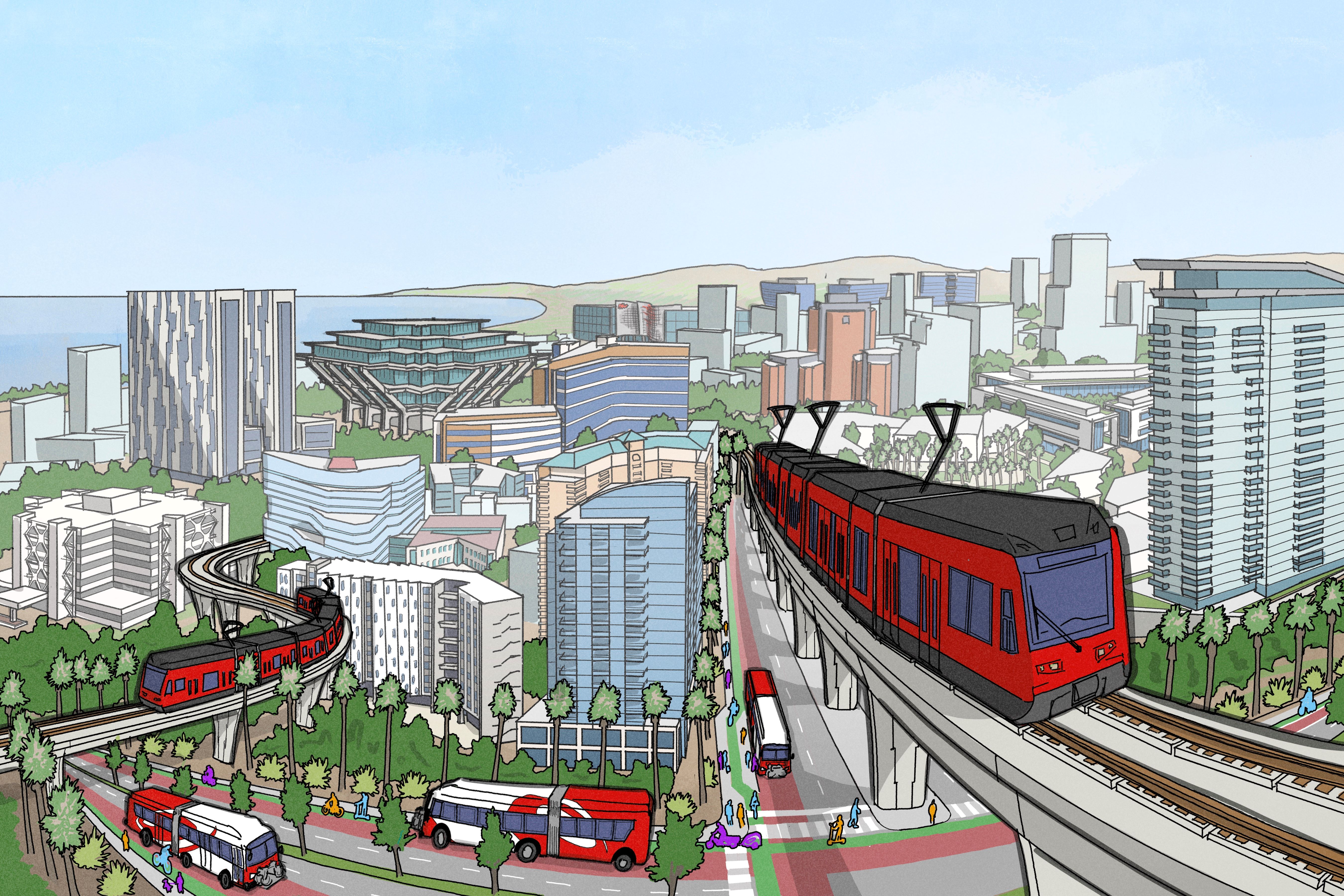 After investing $2.2 billion, San Diego has an opportunity to Make the Most of the Mid-Coast Trolley by planning for homes, jobs, and transportation options in the University Community Plan Update. The Trolley and the plan update can be a catalyst for equitable and sustainable economic growth.
The City needs to hear your voice in support of homes and bus lanes in the University Community Plan Update.
Transit for Fun is back!
Join us for a ride from Downtown San Diego to University Heights. Circulate San Diego will be giving out free MTS day passes to the first 10 people who sign up for the event.
Transit for fun is a program of Circulate San Diego determined to show the benefits of public transportation by organizing special outings where participants use public transport to have fun. Our goal is to show people, especially those who may have pre-conceived ideas about what riding the bus is all about, that the bus really can be useful, cost-effective, timely, and, yes, fun!
When: June 21, 2023 at 5 pm
Where: #11 Bus stop -- 1st and C St. (near the Civic Center Trolley Stop)
Our Transit for Fun will end at Circulate's June Membership Mixer at Park & Rec, just in time for a free drink!
MTS Bus Driver Strike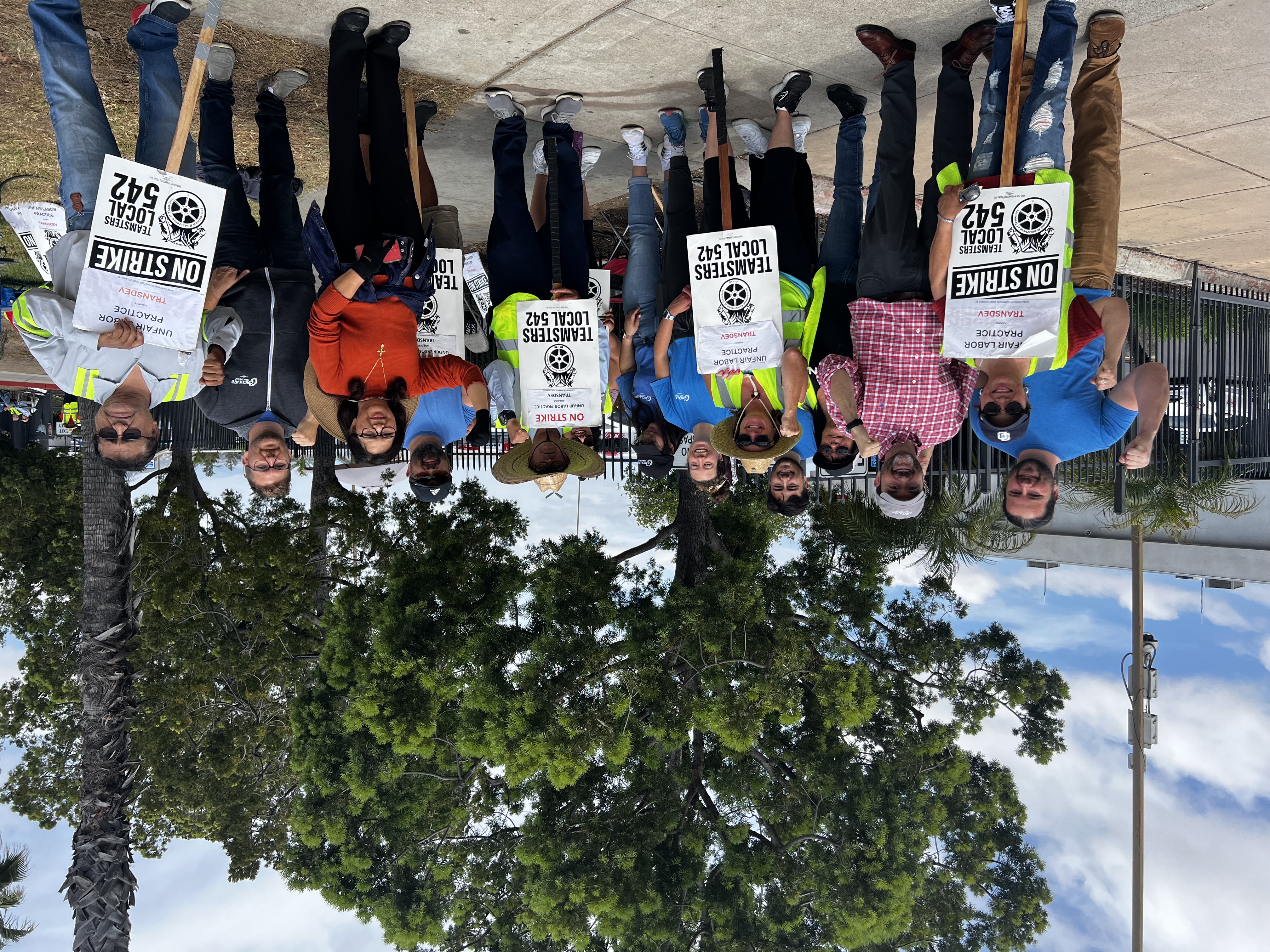 Circulate staff stopped by the picket line today and met with workers from Teamsters Local 542. We recorded testimonials about how MTS paratransit drivers want to get back to work, to serve their disabled and elderly riders. View the Videos on our Instagram Page.
Transdev paratransit drivers and utility workers provide an indispensable service to folks with disabilities traveling around San Diego. Transdev's inaction is impacting not only staff, but thousands of individuals in need of reliable transportation.
Circulate submitted a letter urging MTS to ensure that Transdev meets the demands of striking workers and gets buses running again.
CIRCULATE NEWS