Momentum Awards Recap and Event Photos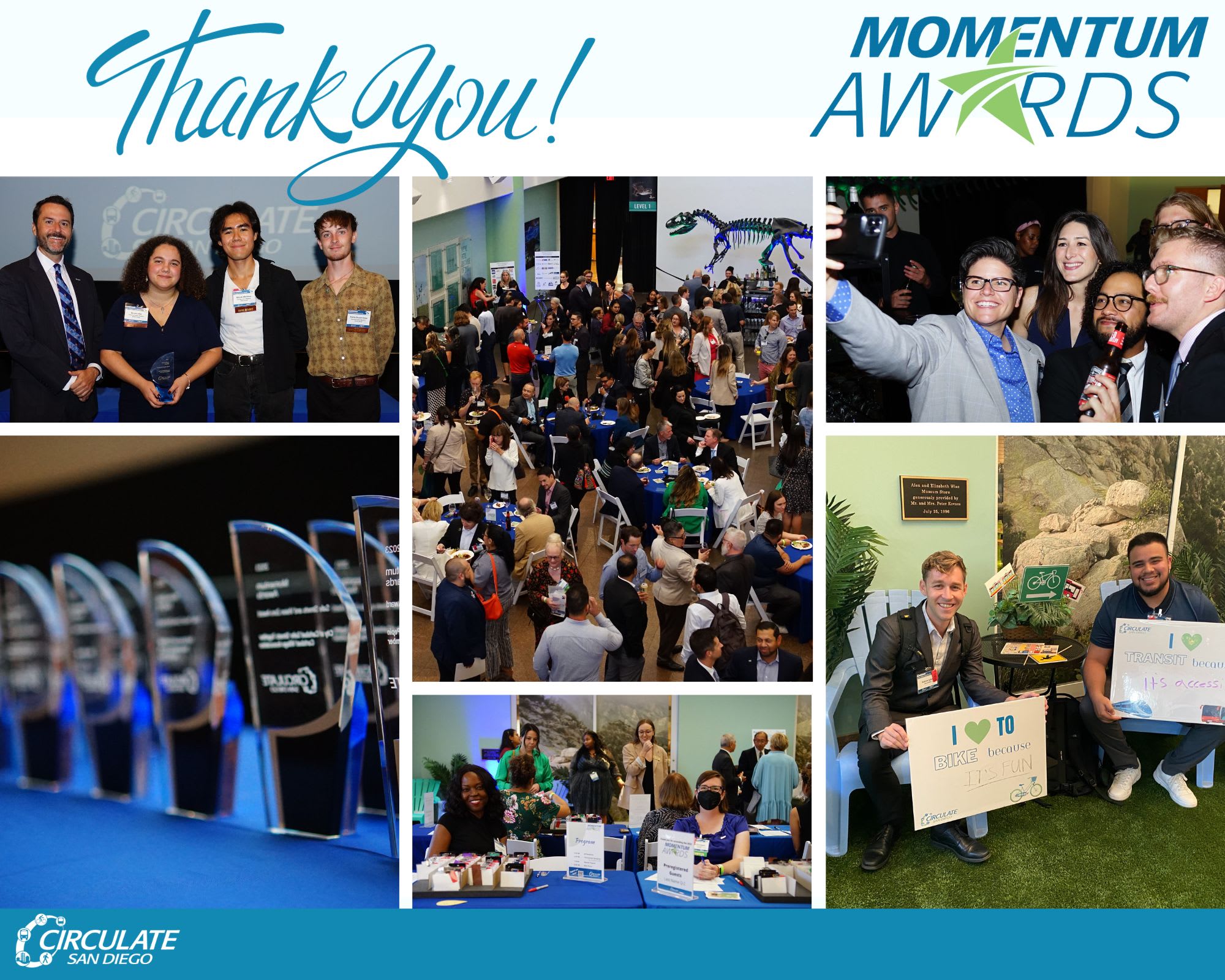 With over 350 guests in attendance, the 2023 Momentum Awards was a tremendous success!
It was wonderful to come together to celebrate the people and projects in the San Diego region that are creating excellent mobility choices and vibrant, healthy neighborhoods.
We want to thank everyone who attended last week's event, including our generous corporate sponsors. This night definitely could not have been as successful as it was without you.
Thank you to our amazing staff, development committee and vendors for organizing this special event.
A special thanks to Attorney General Rob Bonta, Senate President Pro Tem Toni Atkins, and Diane Takvorian for being this year's "Walk the Walk" awardees and for leadership in taking substantial action for safer streets and better land use policy.
Did you see AG Bonta at the Momentum Awards!?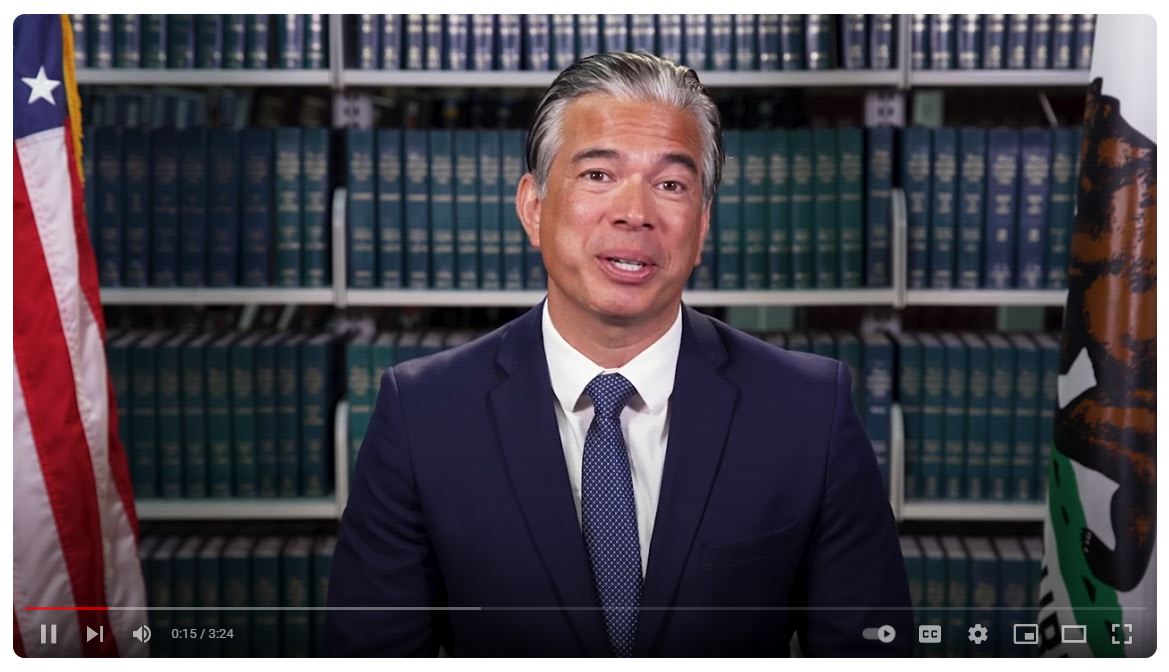 Last week, at the 2023 Momentum Awards we honored the people and projects making San Diego a better place to live, work, and move around. Our honorees included Attorney General Rob Bonta as one of our 2023 Walk-the-Walk Awardees!
We are excited to share a special message from the Attorney General recorded for Circulate's Momentum Awards!
SAVE THE DATE – FALL MEMBERSHIP MIXER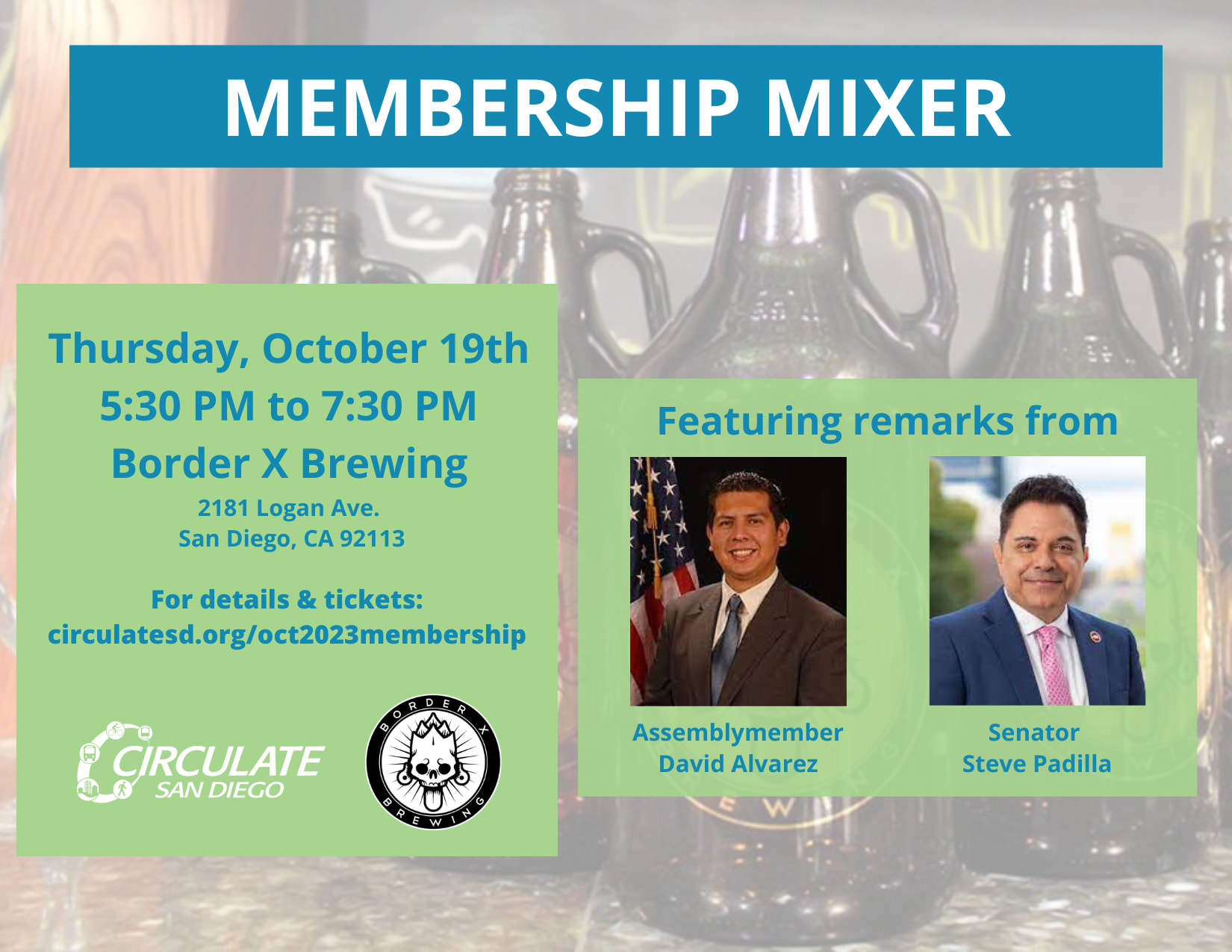 Join Circulate San Diego for our Fall Membership Mixer on October 19th at Border X Brewing in Barrio Logan.
We'll have a fun evening with our diverse and engaged membership for networking, free drinks, music, and celebrations. Mingle with Circulate staff members, local decision makers, and professionals in the land use and transportation space.
We are also pleased to announce that we'll be joined by Senator Steve Padilla and Assemblymember David Alvarez!
SAVE THE DATE - THE STREET PROJECT SCREENING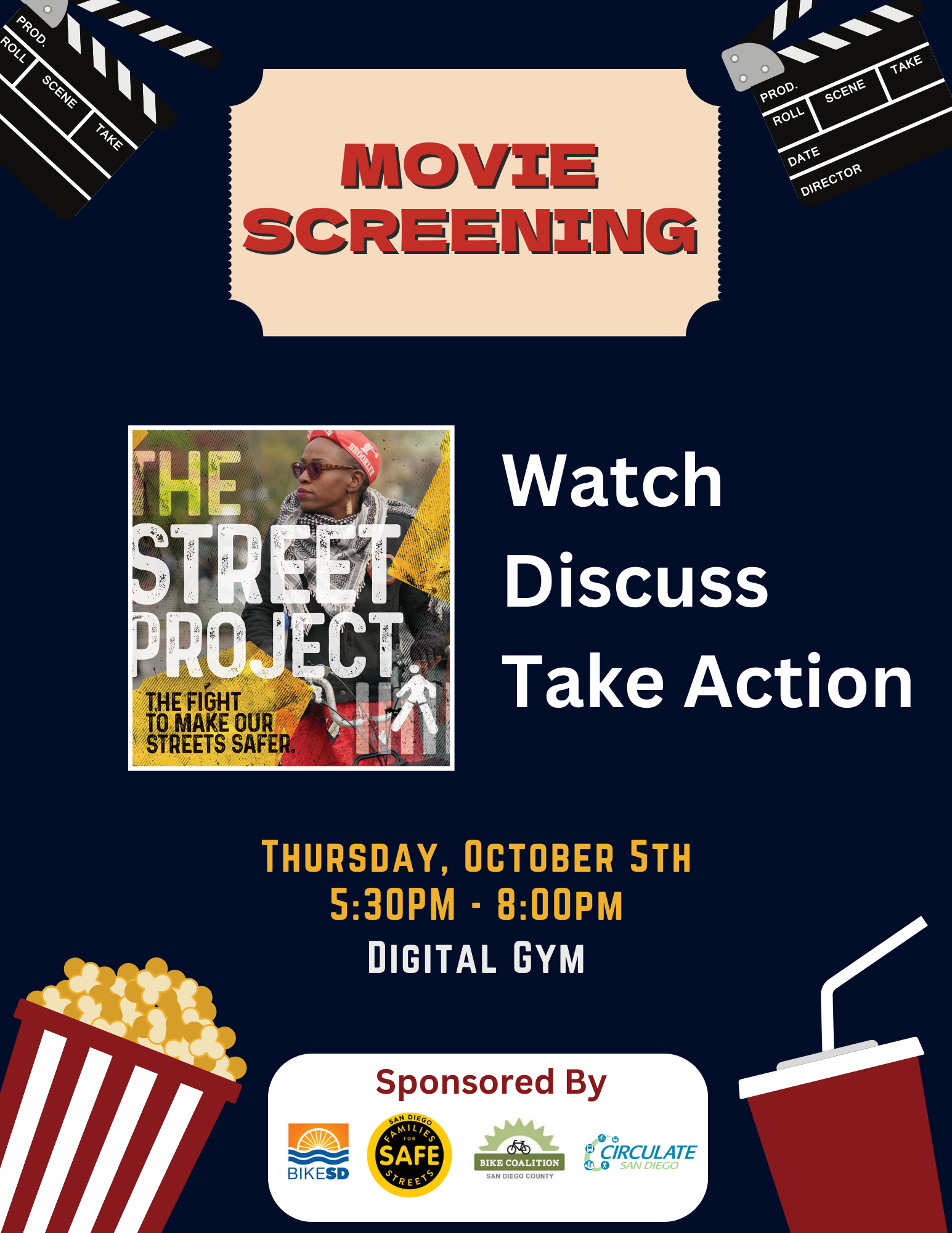 Join San Diego's leading safe streets organizations for a special documentary screening.
In honor of National Pedestrian Safety Month and National Week without Driving, we invite you to a special screening of "The Street Project." This documentary, crafted by the Emmy-winning team at Boyd Productions, sheds light on the global movement to make our streets safer for pedestrians and cyclists.
Arrive early to visit the host organizations in the lobby and hear the latest efforts to address issues like those highlighted in the film.
Thursday, October 5th
Digital Gym - 100 Market St, San Diego, CA 92101 (2nd floor of the the UCSD Park & Market Building)
Recap - The Buena Park Culturefest
This past Saturday, Circulate was in Buena Park conducting community outreach for the city's first Active Transportation Plan (ATP). The goal of the ATP is to help improve Safety, Connectivity, and Mobility Access for a better walking and biking experience in Buena Park.
Residents of all ages and abilities were eager to provide feedback on their own pedestrian and cycling experiences through Buena Park and take our survey. Feedback included addressing speeding on major streets such as La Palma and Beach Boulevard and expanding the bicycle network from other cities into Buena Park. The community feedback will be used to identify future improvements and infrastructure projects needed in Buena Park.
Circulate Welcomes New Affiliate: Families for Safe Streets San Diego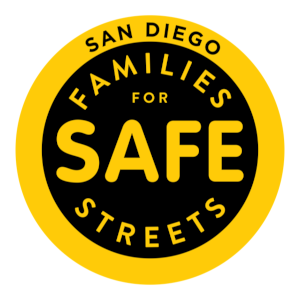 Circulate San Diego is proud to announce that it has become the fiscal sponsor for Families for Safe Streets San Diego ("FSSSD").
FSSSD is a group of San Diego families who have lost loved ones to traffic crashes or been affected themselves. Through their stories and advocacy, they seek physical improvements on our streets, policy changes and the rapid implementation of Vision Zero.
FSSSD is led by Laura Keenan, who founded the organization after her husband Matthew was hit by a car and killed in 2021 while riding his bike in Mission Valley.
Families for Safe Streets San Diego is one of over 20 Families for Safe Streets across the United States, partnered with the national Families for Safe Streets Movement.
Circulate news