Join Us for World Day of Remembrance Candlelight Vigil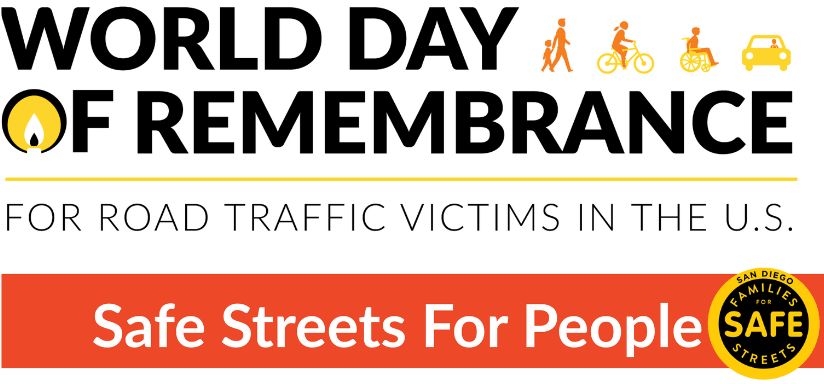 Volunteers and Shoe Donations needed for the World Day of Remembrance for Road Traffic Victims on November 17th. We'll honor the 283 people killed in San Diego County traffic collisions in 2022 and work for safer streets in their name. We'll display a pair of shoes to visually represent those we've lost due to preventable traffic collisions. All shoes will be donated to charities following the event.
Donate shoes: Please consider donating no-longer needed shoes. Find convenient shoe drop off locations here.
Volunteer: We're looking for volunteers at the event to set up shoes, check-in attendees, and transport shoes and tables to the event. Please sign up to volunteer here.
Join Us: to show community support as we work to make our streets safe for all.
National Pedestrian Safety Month Halloween Safety Tips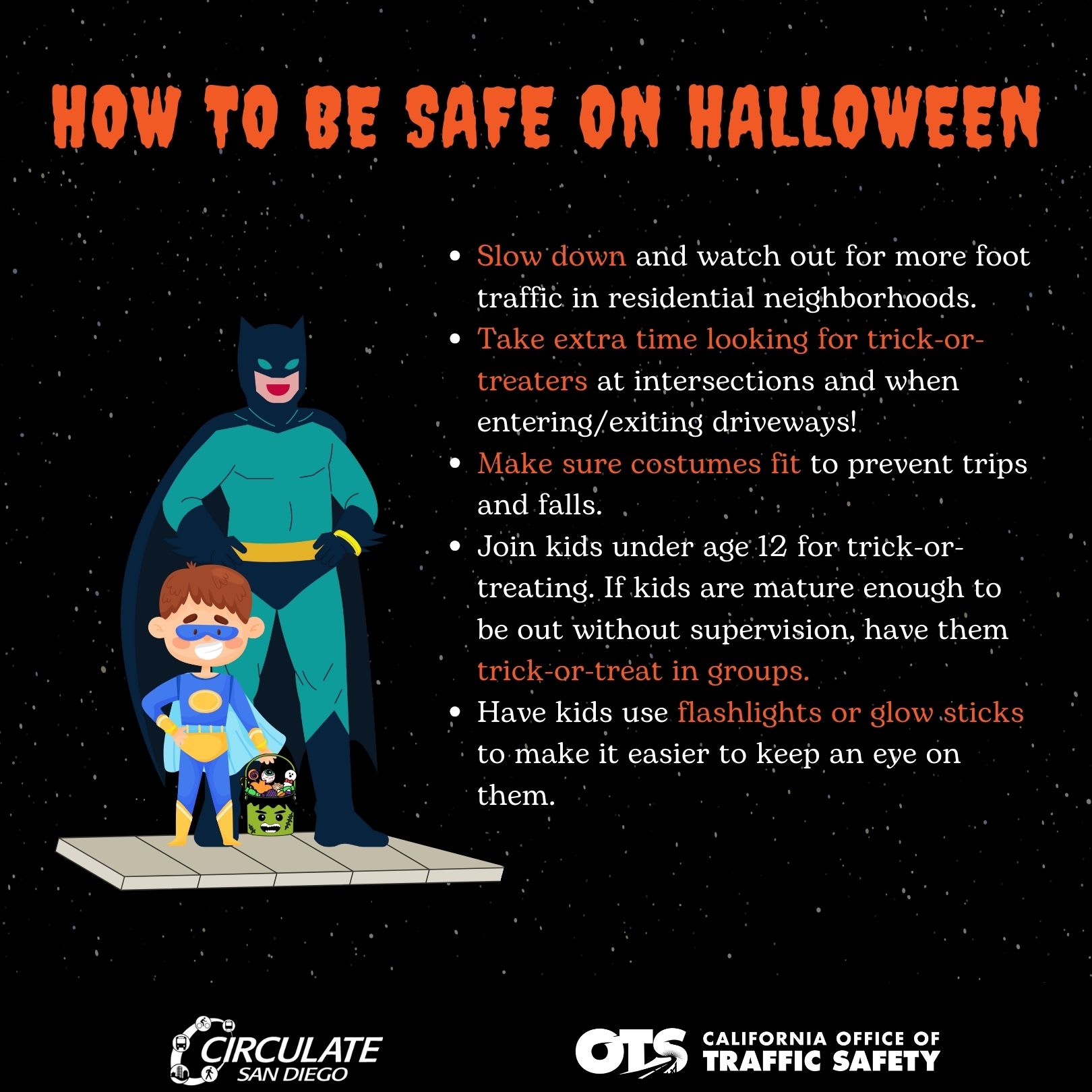 The month of October is for pedestrian activities - trick-or-treating, pumpkin picking, and haunted trails galore. It should come as no surprise that October is also National Pedestrian Safety Month. How spooktacular!
To celebrate, Circulate is partnering with California's Office of Transportation to encourage our community's monsters and ghouls to be extra careful while driving or walking to and from their frightful festivities. Remember Halloween is one of the most dangerous nights of the year with increased pedestrian traffic and increased alcohol consumption.
Do not drive impaired. To learn more about National Pedestrian Safety Month, check out the NHTSA website.
RECAP: Fall Membership Mixer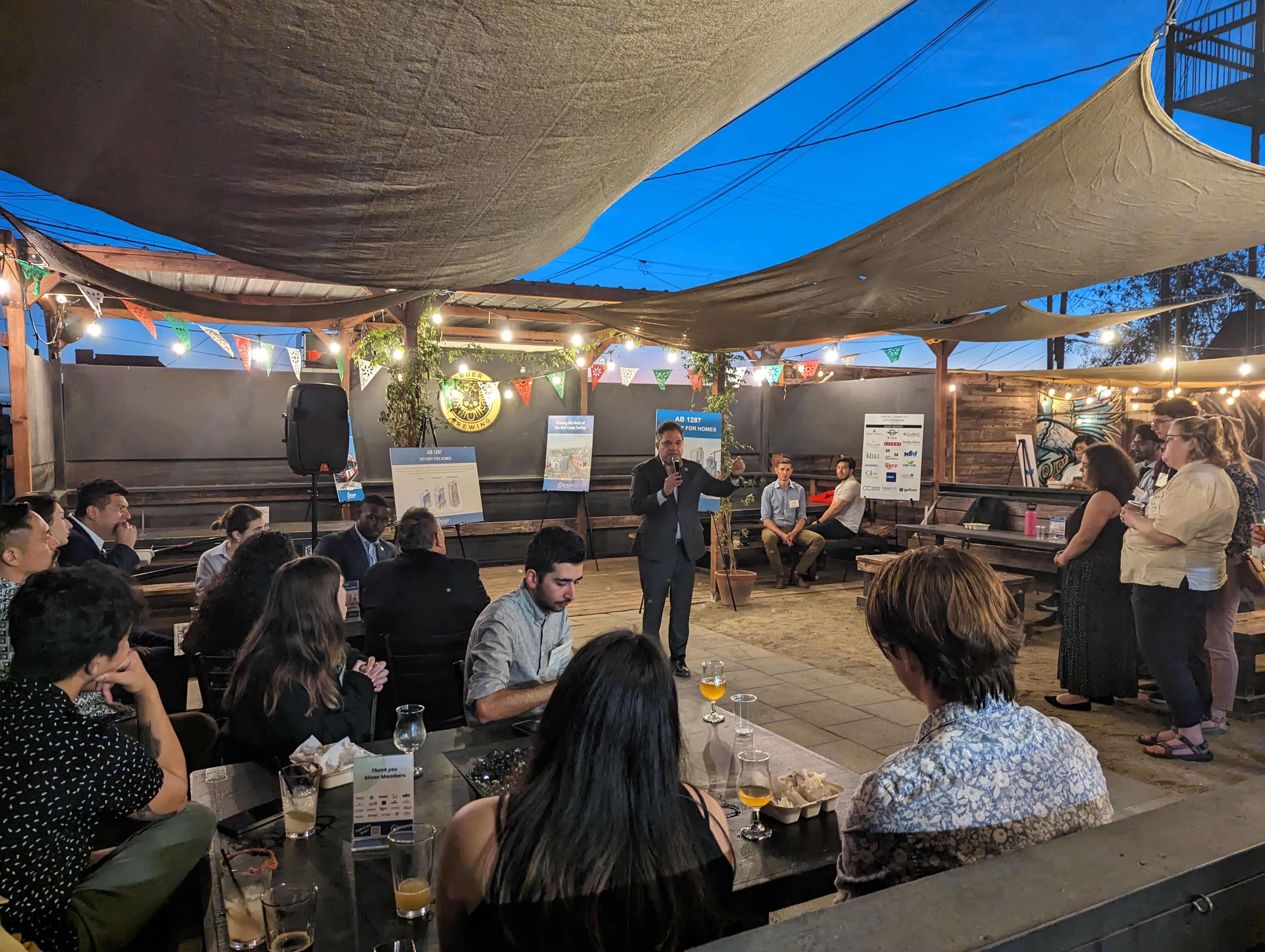 Thanks to everyone who attended our Fall Membership Mixer!
Special thank you Senator Steve Padillaand Assemblymember David Alverez for offering remarks. We were excited to celebrate all the housing wins during this legislative cycle, including Circulate Sponsored Bill AB 1287.
AB 1287 from Assemblymember Alvarez would expand California Density Bonus Law by creating a new "Middle Income Bonus Program." That program would encourage housing developers to maximize existing incentives to construct deed-restricted affordable units, and to provide additional deed-restricted middle-income units.
We especially want to thank all of our corporate sponsors and individual members who attended and to Border X for hosting us. Together we are making San Diego a better place to live, work, and move around.
Don't miss the next Mixer.
Recap: Dana Middle School's BOOvie Night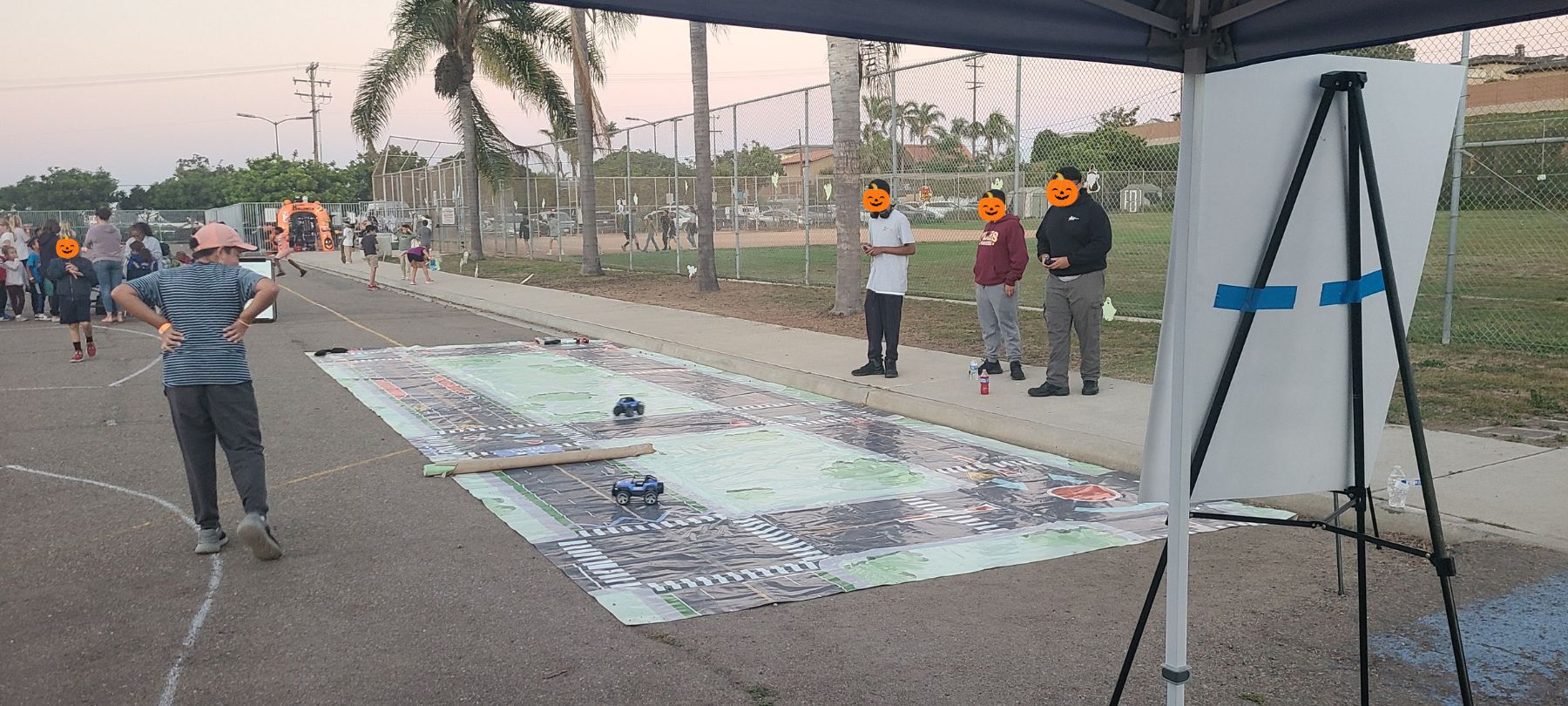 Circulate joined Dana and Correia Middle Schools for BOOvie Night on October 20th.
Circulate staff brought our remote-control traffic calming course and safety guides to educate middle schoolers on bike and pedestrian safety. During the BOOvie Night, staff quizzed the students on bike and pedestrian safety tips and when they got the right answer they were able to spin a prize wheel and win cool incentive prizes! We were even able to giveaway a free helmet to one of the middle school students.
The booth was very popular and we spoke to over 200 students and parents that night! Circulate was able to participate in this event as a part of our Walk N Roll project funded by the County of San Diego and the California Office of Traffic Safety.
Circulate's AB 1287 is now law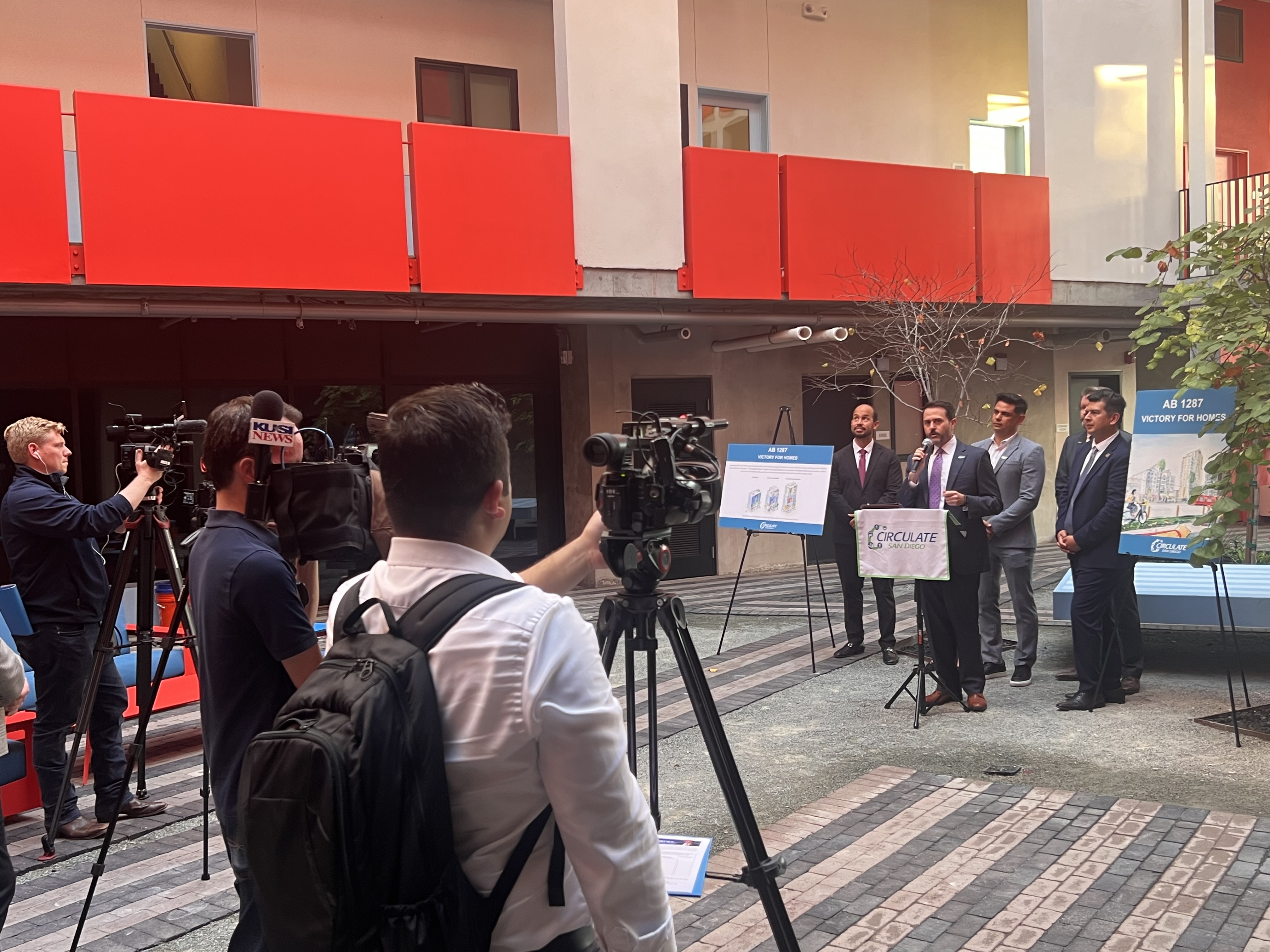 AB 1287 is a major legislative accomplishment. The Middle-Income Homes Bonus program will expand housing opportunities throughout California. It benefits all Californians by encouraging construction of more homes at every income level.
When AB 1287 takes effect on January 1, 2024, it will create a new incentive that can only be used when a project maximizes the production of Very-Low, Low, or Middle-Income units, as allowed by current Density Bonus Law. Only when those maximums are met, does an additional bonus become available when a project deed-restricts an additional percentage of Middle-Income homes.
Last week, our staff organized a press conference to celebrate this major win for housing production. We were joined by Assemblymember David Alvarez, and housing advocates.
A number of local outlets carried the story, including ABC 10 ,The East County Magazine ,Times of San Diego, CBS 8,NBC 7, and AXIOS San Diego. This kind of publicity is key to promoting our work to make San Diego and California a better place to live work and move around.
Join Circulate and lock in your 2024 Corporate Membership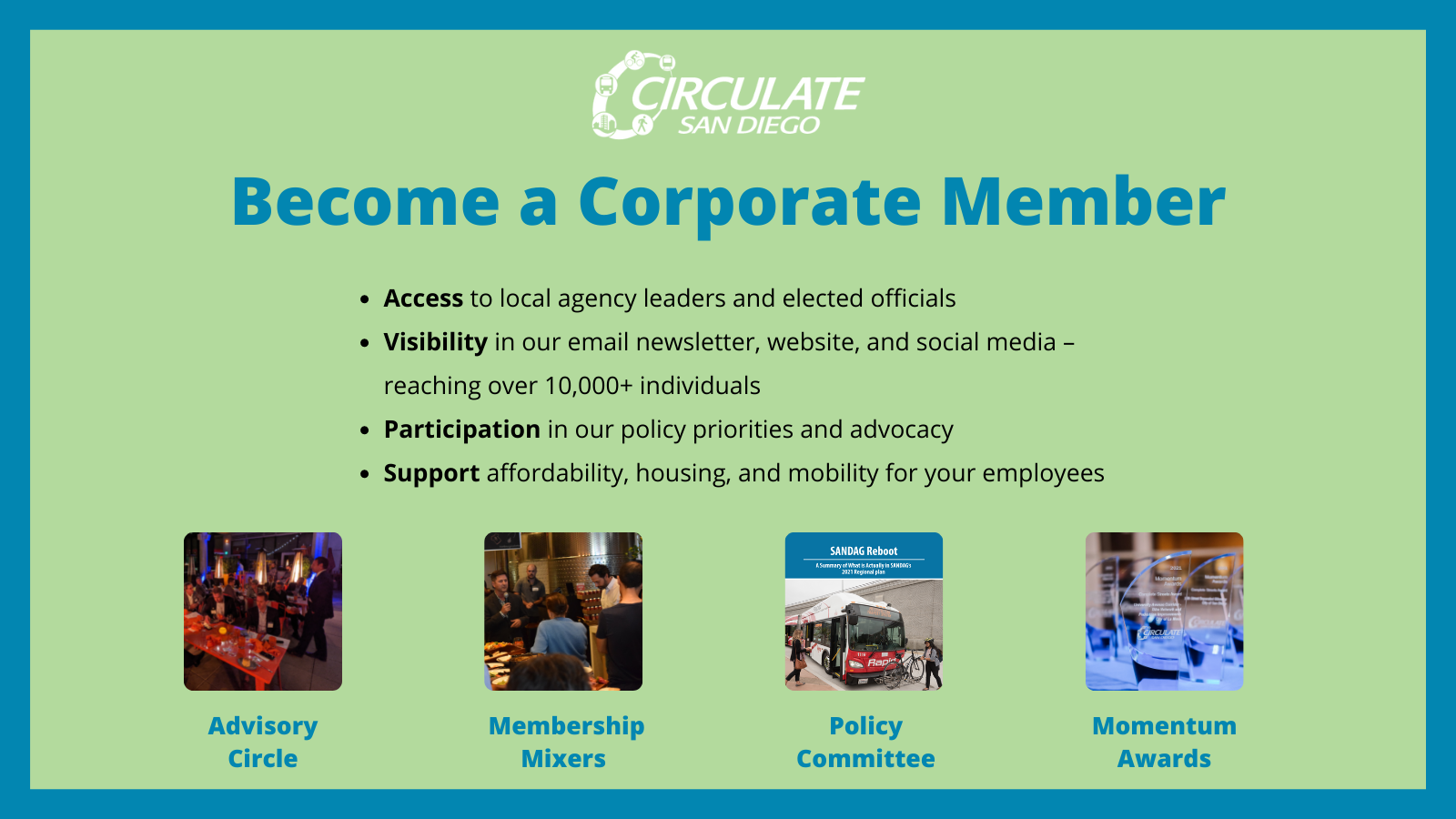 Corporate Members are the driving force behind Circulate San Diego's efforts to champion safe streets, enhanced transit options, and improved land use policies. Thanks to your generous support, we are making San Diego a better place to live, work, and move around.
As a valued corporate member, we're excited to offer you an exclusive opportunity to join or renew your 2024 Corporate Membership early and enjoy a 10% discount when you do so before December 31st. Your continued partnership is instrumental in advancing our mission.
Circulate is known is known as the go to organization for land use and mobility policy, and at the forefront of innovative and practical solutions. Your support makes us even stronger.
Circulate is known is known as the foremost authority in land use and mobility policy, consistently leading the charge in developing innovative and practical solutions. With your support, we become even stronger.
Renew today and continue to be a vital part of our mission to create a better San Diego.
CIRCULATE NEWS