Corporate Members – Renew Today and Save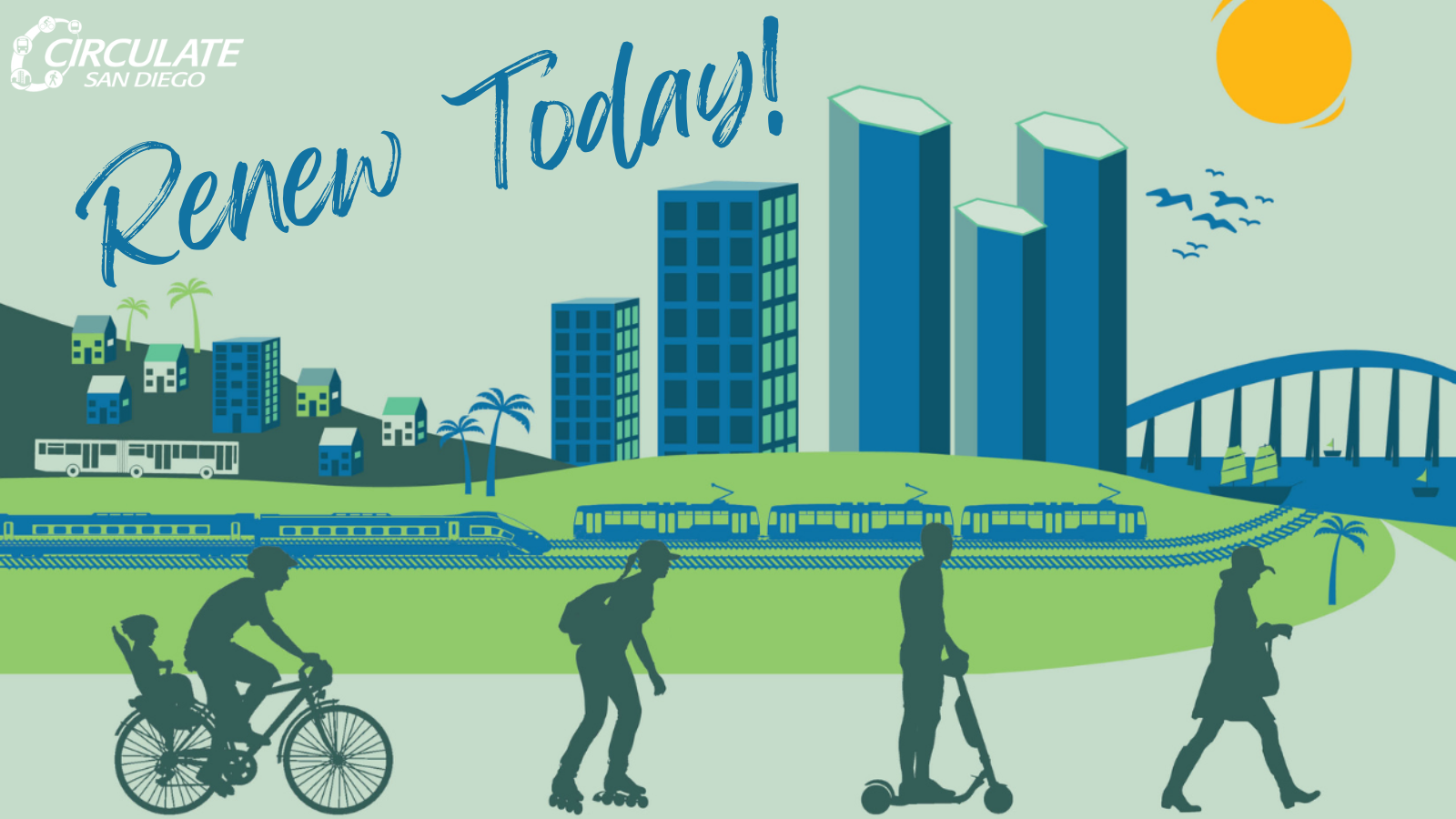 Corporate Members fuel Circulate San Diego's work to advocate for safe streets, improved transit, and better land use policy. With your support we are making San Diego a better place to live, work, and move around.
Circulate is known as the go to organization for land use and mobility policy, and to be at the forefront of innovative and practical solutions. To ensure our continued success and meet the demands of increasing costs we are adjusting our membership dues starting on January 1, 2023.
We are giving you the opportunity to join or renew early and save! Join or renew your 2023 Corporate Membership by December 31st and pay the 2022 membership level price, but get all the great benefits in 2023.
Thank you for joining us at our november mixer!
Thanks to everyone who attended our November Membership Mixer last night!
Special thank you to Supervisor Vice-Chair Nora Vargas for your time and remarks. Lots of progress has been made to build housing, introduce bike infrastructure, and protect pedestrians moving around our region. We are excited to work together to build on these efforts in the years to come.
We especially want to thank all of our Corporate sponsors and individual members who help make our work possible. Together we are making San Diego a better place to live, work, and move around.
Recap of CicloSDias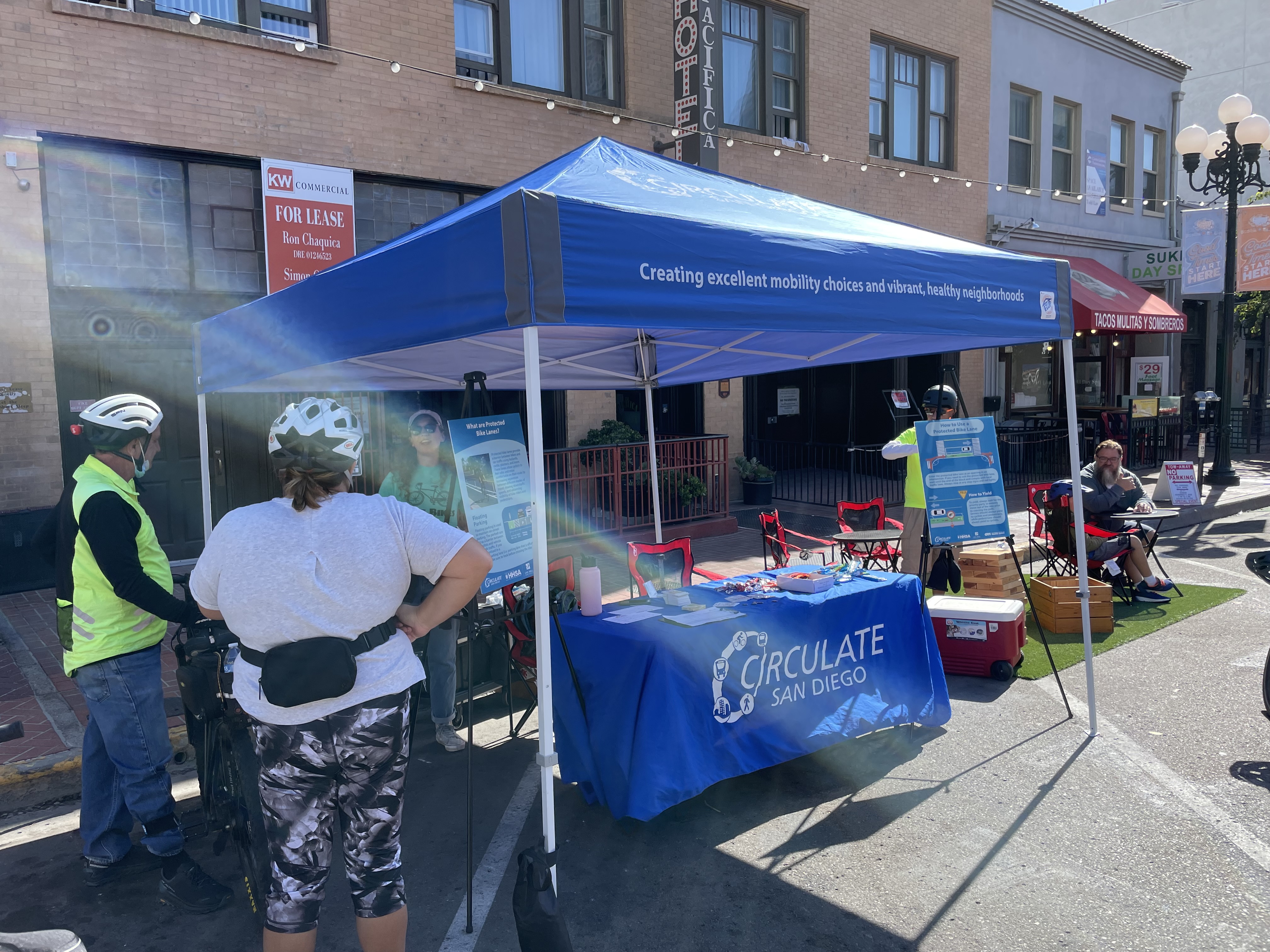 This past Sunday, November 6th, was the City of San Diego's annual CicloSDias event organized by the San Diego Bike Coalition. This was an opportunity to close popular downtown street for only active transportation modes such as biking, walking, and rolling.
Circulate had the pleasure of manning a pitstop along the 3-mile route. We provided education on bike infrastructure, had a temporary parklet for people to take a break, and had plenty of water and snacks to fuel the participants. We look forward to the next one! 
Moving on to Bike and Scooter Rides with Father Joe's!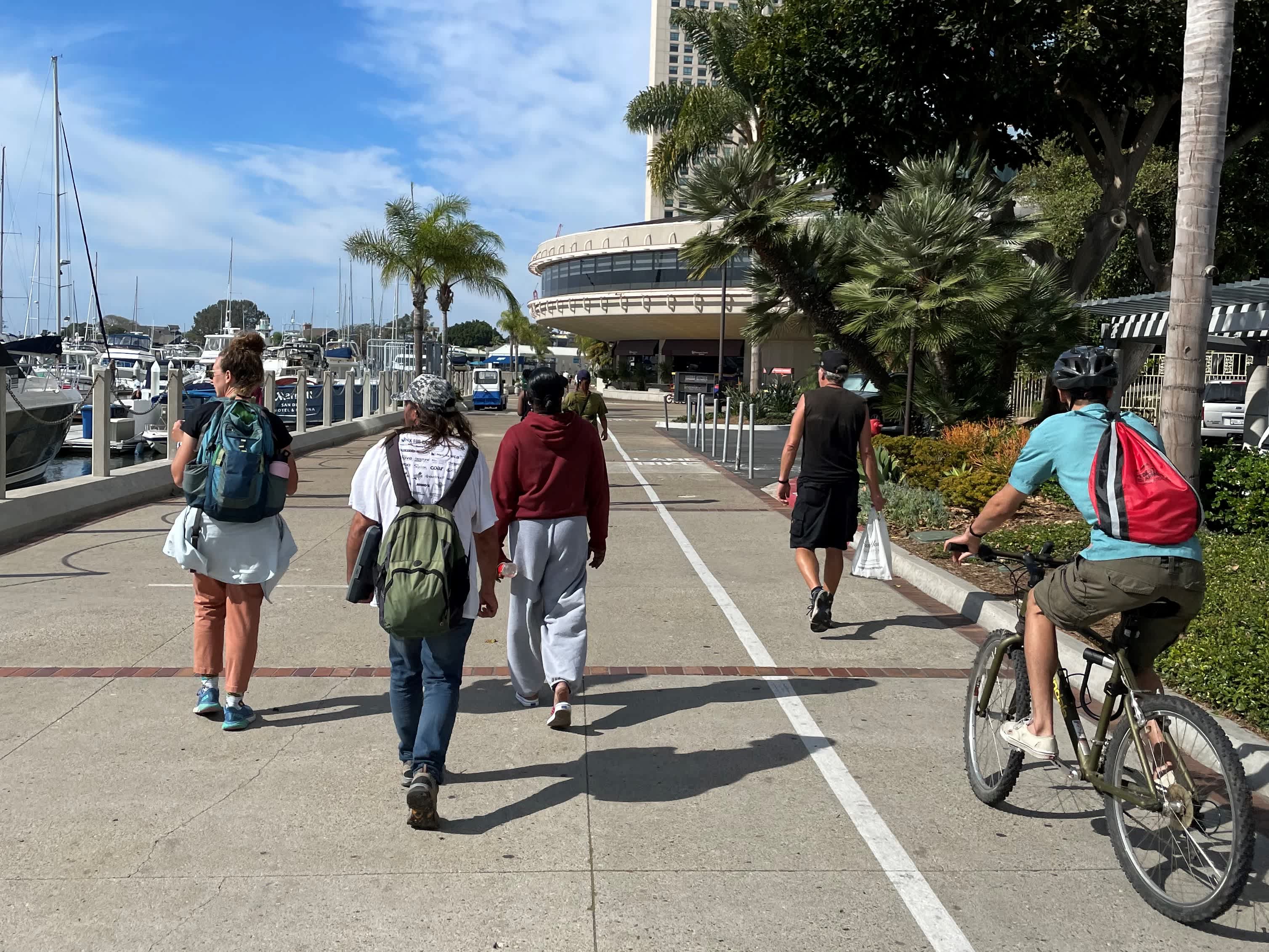 After going on two more wonderful walking field trips with our Father Joe's Villages friends, we are just about ready to move on to our bicycle and scooter programming. Two weeks ago we were able to walk along the Martin Luther King Jr. Promenade to visit Seaport Village, where everyone enjoyed some pizza and seltzer water by the duck pond.
This week, we went on a mini park tour of East Village, taking selfies at Fault Line Park, finding out that Park at the Park was closed for the day (very sad), and ending up at the San Diego Central Public Library where participants used some of the gift cards they'd earned through this program to buy books, pens, and coffee mugs!
Next week, we'll host a scooter rodeo with help from our colleagues at BIRD, so that the Father Joe's community can get some valuable training and practice using scooters safely. 
World Day of Remembrance for road traffic victims – November 18th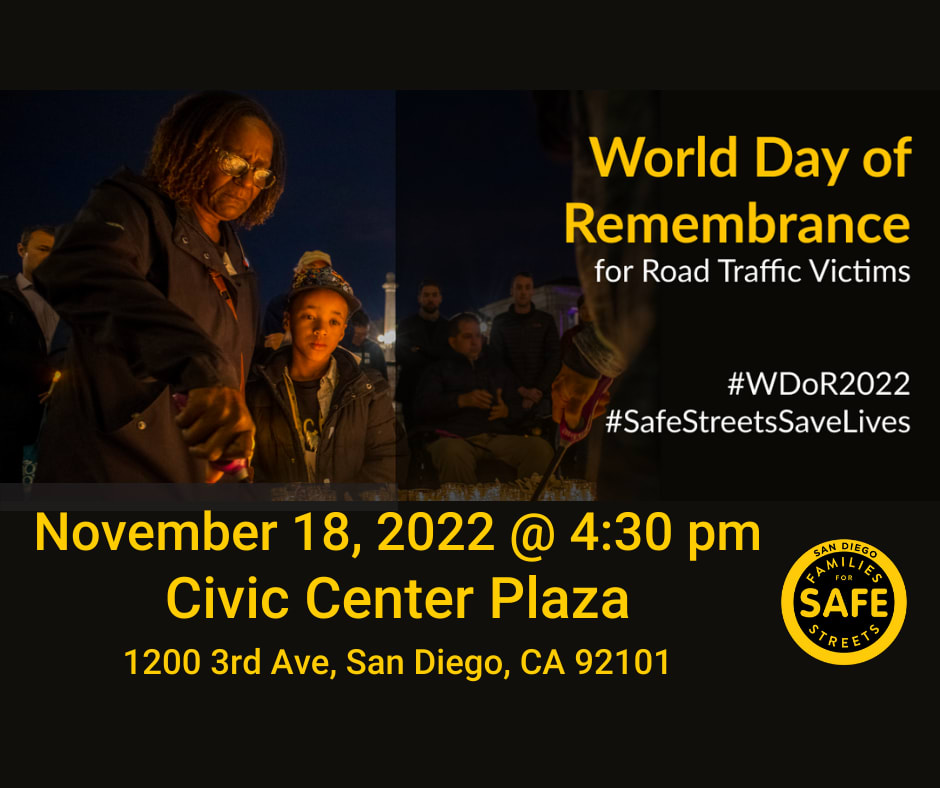 Join Families for Safe Streets San Diego and the San Diego County Bicycle Coalition in observing World Day of Remembrance for road traffic victims. They will honor the 294 individuals who were killed in San Diego traffic crashes last year, listen to stories from the families of victims, and call on our elected officials to invest in proven road safety solutions.
During this event on November 18th, they'll be calling on our elected officials to make three key commitments:
1. Complete a Bicycle Master Plan Update by the end of 2023
2. Lower speed limits and build physical traffic calming projects on all eight of San Diego's most dangerous Vision Zero corridors by June 30, 2024
3. Double the funding and annual mileage target for San Diego's quick-build bikeways team, to set a standard of building 18 miles of quick-build safe bikeways per year
To show our elected officials the urgency of safe streets, they'll need a huge show of support from the community for this event.
circulate news