BOARD MEMBER SPOTLIGHT: Melanie Cohn
Circulate is led by a passionate and dedicated group of volunteer Board of Directors, throughout the year we will spotlight these folks.
Melanie Cohn is Circulate's Board Secretary. As the Sr. Director, Regional Policy & Government Affairs at Biocom California, Melanie brings a wealth of knowledge of government policy, San Diego's life science sector, and community connections to Circulate's Board and Policy Committee.
Thank you, Melanie, for your dedication to Circulate and the San Diego region.
Circulate's February Membership Mixer
Join Circulate staff, local decision-makers, and professionals in the land use and transportation space for Circulate's first membership mixer in 2023 to celebrate the release of our next big report: Making the Most of the Mid-Coast.
We are pleased to announce that we will be joined by newly elected Councilmember Kent Lee.
Thank you, Alexandria Real Estate for hosting us for the evening at your state-of-the-art GradLabs building at Campus Point.
Current 2023 individual and corporate members join for free.
STAY TUNED- Next report coming out THIS MONTH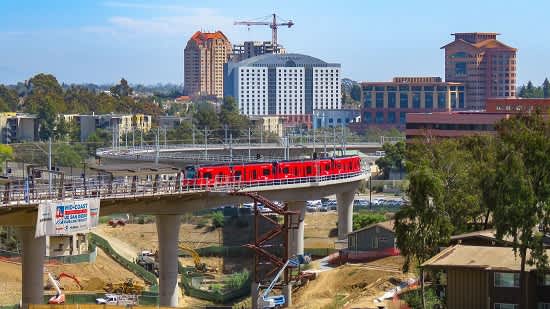 This month, Circulate San Diego is releasing its next big report: Making the Most of the Mid-Coast.
With the completion of Mid-Coast Trolley Extension, the San Diego Region has a once-in-a-generation opportunity to grow its biotech economy, connect homes to jobs, and
to address climate change. Circulate San Diego is publishing a report that outlines and advocates for a robust update to nearby land use rules like the University Community Plan (UCPG), improved feeder bus and bicycle facilities, and other supportive policies. The effort will drive public and press discussions to support more development and smart growth in the area.
Check out Colin Parent's, Circulate San Diego Executive Director, Op-Ed outlining our work to Make the Most of the Mid-Coast. Opinion: How the San Diego region can build on new Mid-Coast Trolley (December 13, 2021)
Be one of the first to see the report.


2nd Annual Gompers Transportation Expo
Visit Circulate San Diego's booth on Saturday, February 11th during Urban Collaborative Project's 2nd Annual Gompers Transportation Expo!
Come learn about clean mobility, active transportation, and resources in Southeast San Diego at Gompers Preparatory Academy (1005 47th Street, San Diego, CA 92102) between 9AM and 1PM next Saturday. Bring your bikes, scooters, and skates and get excited to participate in bike rodeos, enter giveaways, and more.
Circulate's participation in this event is funded by the California Air Resources Board's Clean Mobility in Schools project, which brings clean technology to the neighborhood, helps reduce air pollution, and improves the air quality within the Southeast community.
Come check out our station and try our interactive traffic calming remote control course, contribute to our artistic demonstration intersection, and win some cool prizes. The event is free and open to the public!
Colin Parent talks Fast Bus!, SANDAG, and VMT fees on the "Talking Headways" podcast.  
This week our Executive Director and General Counsel Colin Parent was interviewed by the "Talking Headways" podcast, one of the leading national podcasts on transit and urban issues.

The interview focused on our recent report "Fast Bus!" about how simple and affordable choices can improve the bus, the workhorse of our region's transit network.

The interview covered a lot of ground, including what's good, and what's not-so-good about SANDAG's recent transportation plan. And they discuss how the City of San Diego is investing in bus-only lanes, but not in the best locations.
You can also listen in to hear about how Circulate's recent strategic planning effort is shaping how we do our advocacy work. We are doubling-down on our big research efforts, with long-tail implications to drive policy conversation into he future.

Listen on Apple Podcasts, Google Podcasts, Stitcher, and Streetsblog.
Take the Trolley or Ride your Bike to the February Mixer
Ride up with Circulate's Executive Director, Colin Parent, and Policy Counsel, Jesse O'Sullivan, for the February mixer! They are meeting at Civic Center Station at 4:40pm. Event starts at 5:30 pm.
Alexandria's GradLabs is conveniently located near the UCSD Health La Jolla Blue Line Station. 
There will be bike lockers available, email [email protected] for more information.
Circulate news