Recap: 2022 Momentum Awards!
With over 350 guests in attendance, the 2022 Momentum Awards was a tremendous success!
It was wonderful to come together to celebrate the people and projects in the San Diego region that are creating excellent mobility choices and vibrant, healthy neighborhoods.
We want to thank everyone who attended Wednesday's event, including our generous corporate sponsors. This night definitely could not have been as successful as it was without you.
Thank you to our amazing staff, development committee and vendors for organizing this special event.
A special thanks to Council Member Joe LaCava, Governor Gavin Newsom, and Laura Keenan for being this year's "Walk the Walk" awardees and for leadership in taking substantial action for safer streets and better land use policy.
Congratulations to all of the 2022 award winners! Check out the winners.
Circulate Endorses San Diego Measures B, C, and D
Circulate endorses ballot measures in election years. This year we are supporting these measures in the City of San Diego:
Measure B, which will allow city council to make trash collection fees equitable between multi-family residents and single family residents.
Measure C, which will allow more transit-oriented development in the Midway District by lifting the restrictive height limit.
Measure D, which will ensure access to state infrastructure funds by allowing the City to enter into project labor agreements.
Read our announcement here.
SAVE THE DATE - november membership mixer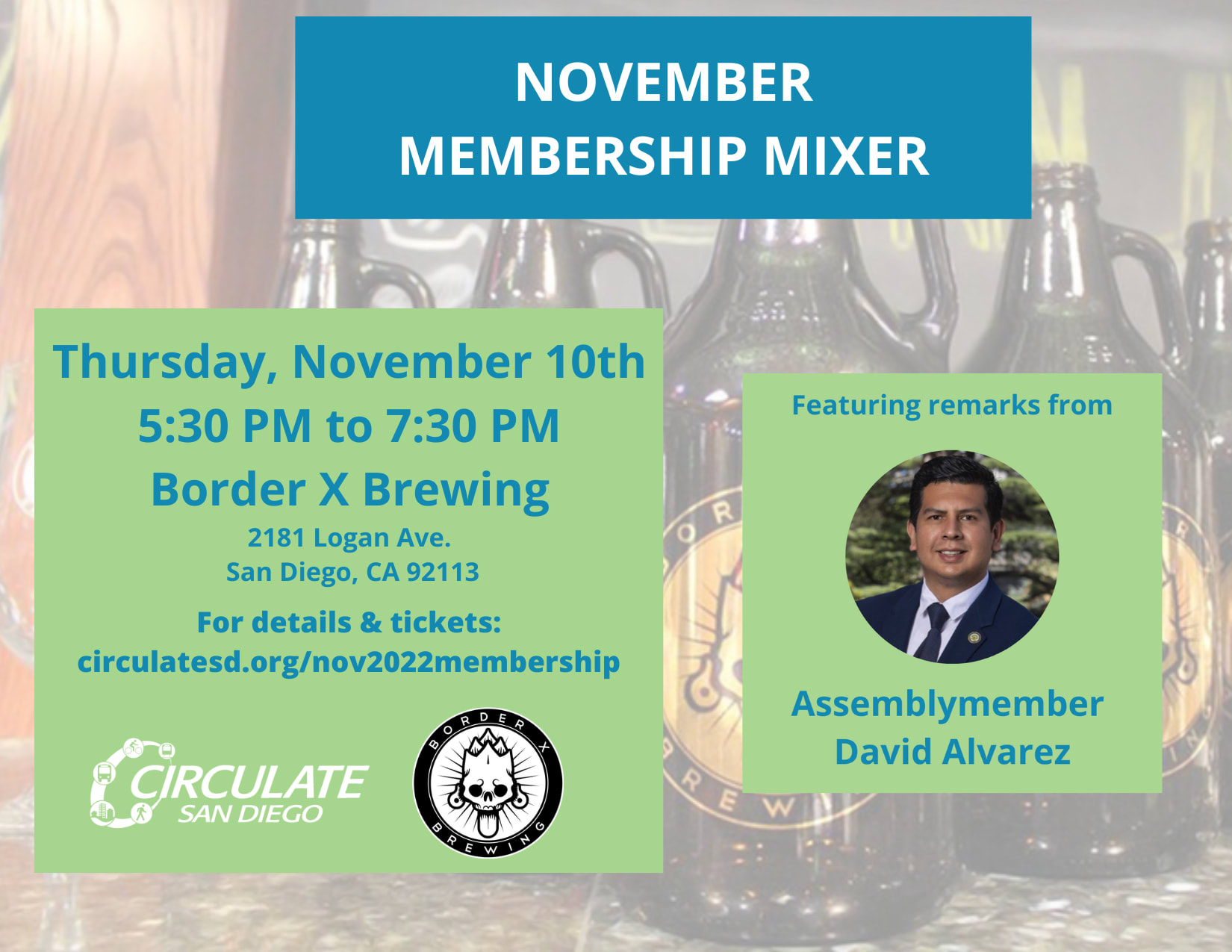 Join Circulate San Diego for our November Membership Mixer on November 10th at Border X Brewing in Barrio Logan.
We'll have a fun evening with our diverse and engaged membership for networking, free drinks, music, and celebrations. Mingle with Circulate staff members, local decision makers, and professionals in the land use and transportation space.
We are also pleased to announce that we'll be joined by Assemblymember David Alvarez!
CPG Reform Passes City Council
On Tuesday, the San Diego City Council voted six to one to adopt reforms to community planning groups. The move is a major breakthrough after of years of advocacy led by Circulate San Diego. Circulate released its report "Democracy in Planning" in February 2018. That report was followed by a grand jury report, recommendations from the City's Land Use and Housing Committee, and several legal memos from the City Attorney and Circulate San Diego, all calling for reforms. That work is cataloged on our website.
The reforms were put forward by Councilmember Joe La Cava, and supported by a broad coalition. Special thanks to all who showed up to support at City Council.
Read our press release here.
In the Field: Bus Audit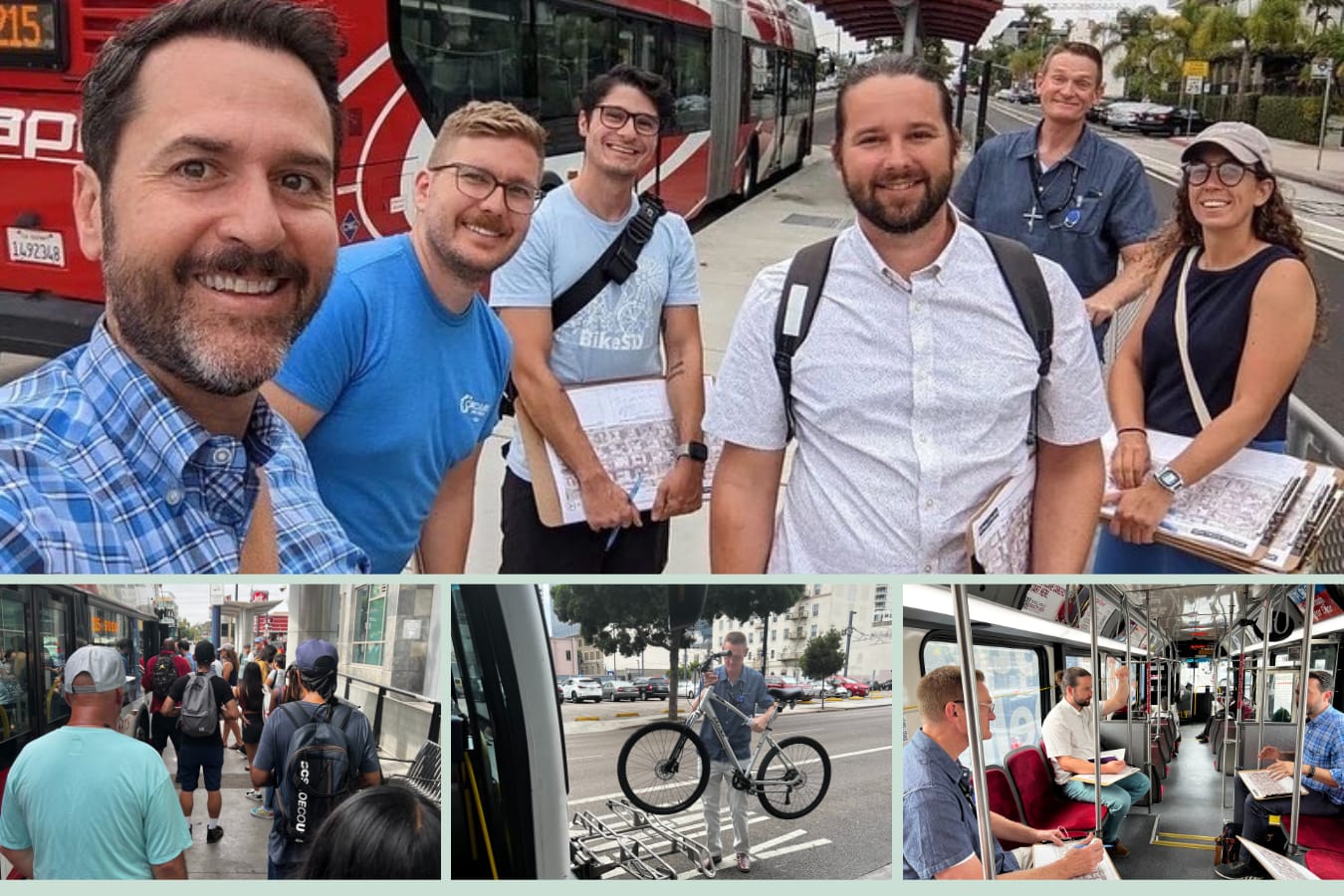 How can we make our busses run faster?
Our planning and policy teams came together last week to conduct a bus audit on parts of the #7 and #215 MTS bus lines. As part of the audit, a group of Circulate staff and supporters, looked at how bus stops, all door boarding, transfers points, and bus only lanes could be used improved to make our entire system work faster.
Observations and research will be highlighted in our next report: "Fast Bus!" Stay tuned.
Demonstration at Balboa Avenue Transit Center Recap
The Circulate Planning team held a demonstration project on Tuesday at the new Balboa Avenue Transit Center to showcase safe pedestrian crossing infrastructure.
The team built a high-visibility crosswalk with curb extensions and a pedestrian refuge island out of temporary materials. Participants were educated on the importance of safe pedestrian crossings and got to test it out firsthand!
Wouldn't it be great to see more of this around transit centers?
Walking Field Trip Bingo
Walking Field Trips aren't anything new for Circulate, but we developed a fun, new twist for Downtown's Serving Seniors Walking Club and added Bingo!
We co-led a walk around downtown, identifying and learning about bicycle and pedestrian friendly infrastructure from bike boxes and protected bike lanes to bus shelters and curb extensions. Whoever spotted 4 infrastructures in a row first won a Circulate-inspired prize. The group had a lot of fun and are now familiar with all of downtown's new infrastructure.
Keep an eye out for our next Walking Field Trip Bingo!


Circulate news