Check out this week's featured stories:
Save the Date: Home Run for Homes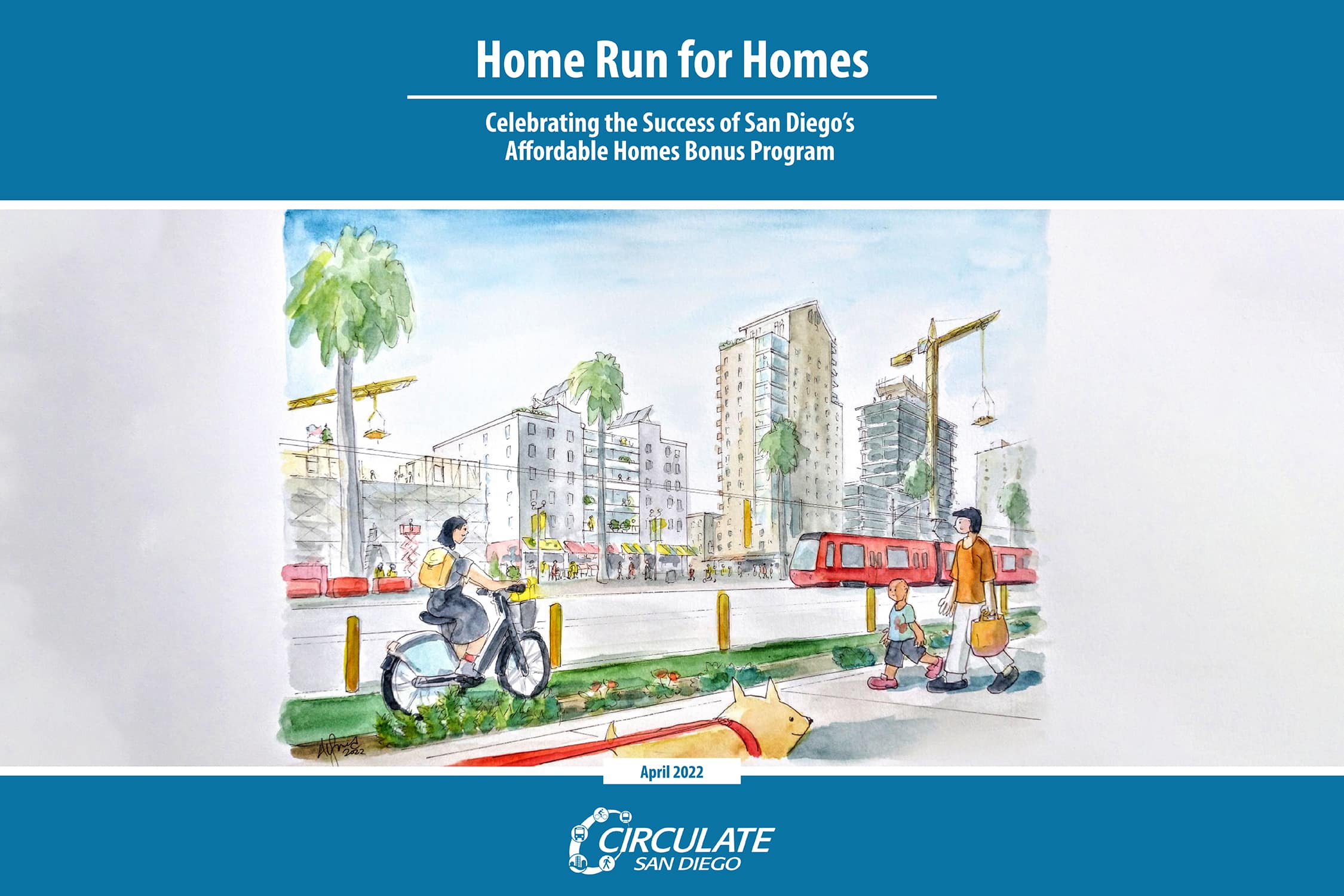 Circulates' newest report, Home Run for Homes, is set for release Monday, April 18. Watch out for the report in your inbox!
The report details the success of San Diego's Affordable Homes Bonus Program, which allows developers to build more homes if they agree to dedicate a portion of a new multi-family project as affordable.
On April 26 at 12:00 p.m., we will be hosting a lunch and learn presentation on Zoom to explain the contents of the report and to give you a chance to ask questions.
Circulate employee Jesse O'Sullivan appointed to Climate Action Plan Review Committee
Circulate employee Jesse O'Sullivan was appointed to the City of San Diego's Climate Action Plan Review Committee on April 5. The appointment was made by the Mayor and confirmed by the City Council. Councilmember Stephen Whitburn congratulated Jesse, who is a D3 resident, on the appointment.
As a member of the Review Committee, Jesse will serve with other community leaders providing feedback on the City's draft Climate Action Plan Update and how the City can engage the community as it works to implement the Plan.
Book Talk with Jenny Schuetz
Please join, virtually or in person, the San Diego Regional Policy & Innovation Center and Circulate San Diego for a book event with Dr. Jenny Schuetz about the release of Dr. Schuetz's new book, "Fixer-Upper: How to Repair America's Broken Housing Systems."
Fixer-Upper is the first book assessing how the broad set of local, state, and national housing policies affect people and communities. It does more than describe how yesterday's policies led to today's problems. It proposes practical policy changes than can make stable, decent-quality housing more available and affordable for all Americans in all communities.
"Housing affordability is one of the most important problems facing American families. Using an economic lens, Fixer-Upper presents a clear and compelling diagnosis of today's housing ills and illuminates the path forward to reach the nation's goal of decent and affordable homes and strong communities for all." — Chris Herbert, managing director, Harvard Joint Center for Housing Studies
When:
May 10, 2022 at 1pm
Where:
Downtown Partnership 401 B Street, Suite 100, San Diego, CA 92101
Take Action to Support the Diamond St. Slow Street!
The Diamond St. Slow Street is a valuable resource for residents and visitors to Pacific Beach. By providing safe mobility for people who walk, bike, skate, and scoot, it supports the City of San Diego's sustainability and vision zero goals.
Now the City is considering whether to keep the Slow Street in place, and what a more permanent Slow Street design could look like. On Wednesday, April 20th at 6:30pm the PB Planning Group and PB Town Council will be discussing the future of the Diamond Slow Street with City leaders and the community. You can take action now to ensure the last remaining Slow Street in San Diego stays in place, and becomes an example that other communities can use in their own neighborhoods.
Take Action!
Attend the April 20th PB Planning Group/PB Town Council meeting about the Slow Street via Zoom or in person at the St. Brigid's Parish Hall.
Email local leaders telling them why you love the Slow Street:
Sharing this info with your friends and neighbors!
SDRAFFH Fair Housing Conference - April 20 & 21
In celebration of National Fair Housing Month in April, San Diego Regional Alliance for Fair Housing (SDAFFH) presents this Conference that will explore critical fair housing issues with the theme: Unraveling Segregation: A New Era in Fair Housing. Come to hear Keynote Address from Gustavo Velasquez, Director, CA Department of Housing & Community Development.
Wednesday, April 20th 9:00 am – Thursday, April 21, 2022 1:00 pm
Panel Information on Fair Housing and Homeownership:
As a result of discriminatory practices in lending and land use, homeownership continues to be one of the most significant areas of housing inequality. This panel will explore historic and current fair housing challenges in homeownership. Panelists will explore challenges and solutions
Lincoln Cluster of Schools Clean Mobility in Schools Pilot Program
On Monday, April 4th, Circulate joined several other project partners in attending the news conference kicking off the Lincoln Cluster of Schools Clean Mobility in Schools Pilot Program. Thanks to a $9.6M grant awarded by the California Air Resources Board (CARB), students attending Lincoln High School and its surrounding elementary and middle schools will benefit from electric school buses, bicycles, landscaping equipment, and more.
Circulate is a partner on the Education and Outreach task of this project, which will include working on program branding, mapping safe walking corridors, assisting with the e-bike pilot, conducting demonstration events, and presenting on pedestrian and bicycle safety at Lincoln Cluster schools. Every community deserves clean air, and this funding will help reduce greenhouse gas emissions and improve public health for San Diegans!
Next Senior Saturday Event on April 23rd!
Last weekend on April 9th, Circulate and the City of National City's Community Services Department co-hosted the fifth of eight Senior Saturday events in Kimball Park! Seniors from across the region gathered together to do arts and crafts, dance to music provided by DJ Danny, and interact with informational booths.
We'd like to extend a huge thank you to our partner organizations for this event, which included Olivewood Gardens, Jewish Family Service of San Diego, Alzheimer's San Diego, Facilitating Access to Coordinated Transportation, Mundo Gardens, National City Public Library, 35 Alive Productions, and Deseo Studios.
Join us at the same spot next weekend on April 23rd 10am-1pm to participate in board games and a sing-along, test out a bicycle skills course, and access resources for food assistance, healthcare, financial education, and more! These events are a free opportunity for senior residents to come together for a wide variety of activities geared towards their interests and abilities. No two Senior Saturday events will be the same.
Circulates' Advisory Circle Dinner
Last week, Circulate convened our third meeting of our Advisory Circle. Invitees include our region's land use and mobility leaders, and financial supporters. Our Advisory Circle formed to inform the work of Circulate San Diego. Members meet annually to review Circulates efforts, and to seek input on what opportunities and priorities we should address in the coming year.
This year we welcomed special guest President Pro Tempore Toni Atkins. In 2021, Governor Newsome Signed Senator Atkins' SB 9, California Housing Opportunity and More Efficiency (HOME) Act, which widens access to housing for California's working families and provides homeowners with more options to create intergenerational wealth. Throughout her career, Senator Atkins has been a champion for affordable housing, the natural environment, healthcare, veterans, women, and the LGBTQ community.
As the Pro Tem shared during the evening, our combined work and the collaboration of government, nonprofits, and businesses will find the solutions to our statewide housing crisis. Here at Circulate, we will continue to push at the local and state level for policies that promote land use policies that encourage investment and growth, and create productive uses of land and transportation investments.
Want to join our Advisory Circle? Membership is open to our Gold, Platinum, & Benefactor Members.